Top 4 Reasons You Should Get Married in the Smokies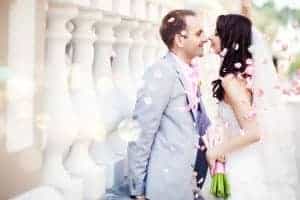 It's not hard to believe why the Smoky Mountains are considered one of the premier destination wedding locations in the country. With the breathtaking scenic views, beautiful chapels and tons of fun and exciting things to do, there is no better place for you and your loved one to say 'I do' than in the heart of the Smokies!
The Scenic Smoky Mountains
There is no way you can talk about reasons to visit the Smoky Mountains without mentioning the breathtaking mountain views. What couple wouldn't want to celebrate their big day with the rolling mountains in the back ground?
Beautiful Wedding Locations
Whether you want to host your big day on top of a mountain or inside a secluded Gatlinburg cabin, there is an unbeatable wedding location just right for you. To see a full list of all the breathtaking wedding locations in the Smoky Mountains, be sure to check out Visit My Smokies' Smoky Mountain Weddings page on our website.
(See Related: Plan The Perfect Smoky Mountain Wedding With Visit My Smokies)
Low-Cost Marriage License Fee
In honor of the Smoky Mountains being one of the top five destination wedding locations in the United States, the marriage license fee for out of town couples can be as low as $38.50 depending on form of payment. Other perks that the Smoky Mountains offer that other destination wedding locations may not? In Sevier County couples won't have to wait on a blood test, in-state couples only have to take a four hour counseling class to receive a $60 discount, and no witness is needed for the marriage to be recognized.
Perfect Honeymoon Combo
One of the latest trends today for couples is choosing to spend their honeymoon in the same place they have their wedding, and the Smoky Mountains are the perfect place for just that. Not only does this save money on wedding costs, but it gives couples a chance to explore all the great things to do in the Smokies once the excitement of the wedding winds down. You'll have no trouble finding the perfect place for your honeymoon when you browse our available honeymoon cabins in Pigeon Forge!
Looking for other great romantic getaway tips for your next trip to the Smoky Mountains? Visit My Smokies offers couples everything they need to know on how to plan the perfect romantic getaway in the Smoky Mountains. From lodging to things to, everything you need for a relaxing vacation is just a few clicks away!