Planning a Smoky Mountains Wedding on Any Budget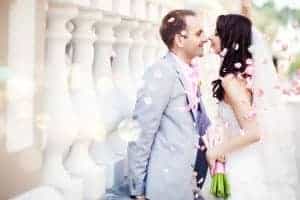 If you are planning on tying the knot in the near future, you are probably falling all over yourself with excitement and nerves. One thing that can make the whole ordeal much more stressful and much less exciting, however, is money. The average wedding costs close to 30 thousand dollars, and you might not have that kind of money just lying around. This doesn't mean that you have to give up on marrying your loved one any time soon or that you will have to settle for a wedding day that is anything short of perfect, though. Fortunately, you can plan a beautiful wedding in the gorgeous Smoky Mountains on any budget.
$500 Budget
If you are on a very tight budget, you might think that your only option is to get married at your local court house. This isn't the case, however. With a bit of careful planning, you can enjoy a beautiful wedding in the Smoky Mountains for 500 dollars or less.
Since you are trying to stick to a tight budget, finding a cheap wedding package might be the best option for you. There are a lot of wedding packages that allow you to get married in a rustic cabin or outdoors with a beautiful view of the Smoky Mountains for around 100 dollars. Many of these packages include a few photos, a small yet personalized cake and more, and you can sometimes even find a package that includes accommodations for yourself and your spouse-to-be for the evening. You can even look into adding on a few add-ons, and you should still have plenty of money to pay for a nice reception for all of your closest loved ones.
$1,500 Budget
Since you can truly have a gorgeous wedding day with a 500 dollar budget, imagine what you can do with 1,500 dollars on your wedding day. In order to get the most out of your money, look for a package that includes accommodations for the entire weekend, a venue, someone who will officiate your ceremony and more. With this type of budget, you should be able to pay for a nice package that includes photography, cake, flowers, and many other perks.

$5,000 Budget
Although a five thousand dollar budget might seem a little bit tight for many people who are planning weddings, you have already seen what you can do with less than two thousand dollars, so you should know that you can plan a wonderful affair if you are able to spend five thousand dollars on your wedding day.
With five thousand dollars, you can book a luxury cabin in the mountains for the weekend, where you can either prepare for the big day or have your ceremony. You can also look into renting various gazebos and other areas if you prefer an outdoor wedding, and you should still have more than enough money to decorate the venue for your big day. You can work with a florist or decorator if you want to, or you can get even more for your money if you decorate yourself or look for a package deal that is all-inclusive. With a little careful planning, you can throw a wonderful wedding ceremony and a nice reception, and you should still have enough to pay for accommodations, dinner and attractions for the weekend.