Plan The Perfect Smoky Mountain Wedding With Visit My Smokies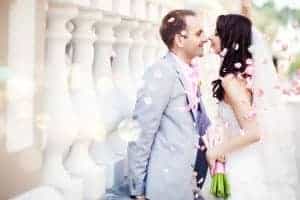 Congratulations! One of the most exciting times in any couple's relationship is the time they spend planning their dream wedding. From deciding on the perfect dress to the flowers on the altar, every detail is the perfect way to symbolize the love you and your special someone share for one another.
That being said, however, there is a lot of stress in between the time that she says "yes" and the moment you both say "I do." At first the thought of planning a wedding may feel overwhelming. Yes the flowers on the altar will be pretty, but how can you decide between roses or carnations? Should the table cloths be white or ivory? Did you know there was a difference? Did you know you needed table cloths?
Never fear, for couples planning on spending their big day in the heart of the Smokies have everything they need in planning the perfect Smoky Mountain wedding just a few clicks away.
With the experience of helping over 10,000 brides a year plan their perfect day, Visit My Smokies has everything couples need. From providing contacts for experienced wedding caterers in the area to an extensive list of beautiful Smoky Mountain wedding chapels and locations,Visit My Smokies is dedicated to making sure that every Smoky Mountain wedding is one to remember.
Ready to begin planning your own special Smoky Mountain Wedding? Fill out our simple dream wedding questionnaire to begin receiving tons of information to begin making your Smoky Mountain wedding dreams come true.
Looking for a place to stay once the reception and festivities are over? Visit My Smokies also offers couples and extended family members one of the best lodging references in the area. Have your choice between all the relaxing lodging options in the Smokies, including a spacious Pigeon Forge or Gatlinburg cabin or a cozy Sevierville bed and breakfast.