17 Ways to Celebrate Christmas in the Smoky Mountains
Christmas lasts all December long in the Smoky Mountains. From incredible Christmas displays, to holiday shopping, to endless family-friendly entertainment, there are countless ways to celebrate Christmas in the Smokies. There's no better place to get into the Christmas spirit and spread the joys of the season than the Smoky Mountains. Visit My Smokies put together a guide of 16 ways to celebrate Christmas in the Smoky Mountains to help you make the most of your vacations.
1. Rent a Smoky Mountain Cabin for Christmas
There's nothing better than the view of snow-covered mountains in the distance as you stand on the deck of your Smoky Mountain cabin. When you spend your Christmas break in the Smoky Mountains, you'll love all the amenities Smoky Mountain cabins have to offer. With plenty of options, you'll be able to find the cabin that is perfect for your stay. You'll feel right at home in a cozy cabin and won't be far from all the Christmas excitement and attractions. Many of the cabins include a fireplace and private hot tub, perfect to keep you warm during the cold weather. Relax in front of the fire with a cup of hot chocolate and swap presents with your loved ones, or unwind after an action-packed night out on the town in your hot tub.
2. See a Christmas Show
If you're in the mood for family fun that will keep you entertained for hours, you'll love celebrating the holidays by going to see a Christmas show in the Smoky Mountains. From comedy, to holiday classics, to incredible costumes and talent, you're in for an unforgettable performance when you see any of the Christmas shows in the Smoky Mountains. At some theaters, you'll be able to enjoy a delicious dinner along with the show! Here are some awesome shows you can catch when you spend Christmas in the Smoky Mountains.
Hatfield and McCoy Christmas Dinner Disaster:
The Hatfield and McCoy Christmas Dinner Disaster show is a perfect show that'll get the whole family laughing. Spend your holidays watching an entertaining performance of two feuding families that try to set their differences aside to enjoy Christmas together. The show features holiday singing and dancing, surprising stunts and, of course, comedy. In addition to watching a comedic show, you'll be able to devour a delicious homestyle feast of fried chicken, homemade bread, a specialty dessert and more!
A Comedy Barn Christmas:
The Comedy Barn's famous Christmas show, A Comedy Barn Christmas, is known as the funniest show in the Smokies! You and your family will experience a perfect mashup of music, magic and comedy that will have you laughing until you cry. There'll be Christmas costumes, Christmas music and one-of-a-kind Christmas acts that will get you in the Christmas spirit. You can also add dinner to the show for an all-you-can-eat meal of pot roast, macaroni and cheese and more.
Country Tonite Theatre Christmas Show:
This award-winning theater puts on an unforgettable, heartwarming Christmas show. The Pigeon Forge Christmas Show at Country Tonite features beautiful choreography and some of your Christmas favorites. The Christmas show features special guest performers like Frosty the Snowman and Santa Claus himself! You don't have to love country to love this show. Your family will love the colorful costumes and holiday decorations as the popular cast celebrates the holidays.
3. See the Lights in Sevierville, Pigeon Forge and Gatlinburg
During the Christmas season, the Smoky Mountains are decorated in millions of twinkling lights and decorations. When you drive through Sevierville, you'll get to see more than 15 million lights in just a 25-mile stretch! In Pigeon Forge, the entire town is covered with more than 5 million lights. You'll get to see bear, deer, giant ornaments and more when you drive through Pigeon Forge. Driving through Gatlinburg, you'll see spectacular lighting displays as well, including animals such as deer and foxes, and dancing fountains and snowmen. If you don't want to drive, you can go on the Gatlinburg Trolley Tour of Lights to see all the displays and learn some of Gatlinburg's history in a heated trolley.
4. Candy Christmas at Crave
Crave Golf Club turns into a candy Christmas wonderland during the holiday season! The one-of-a-kind min-golf attraction is decked out in garland, wreaths, lights, and colorful Christmas trees. There are about 100 trees, 30,000 lights and 20,000 ornaments throughout the Pigeon Forge attraction! Putt on their unique 19-hole indoor course before enjoying their 19-hole rooftop course, then grab a sweet treat from inside. Crave Golf Club is even offering free photo ops with Santa and The Grouch on select dates in December!
5. Lights Over Gatlinburg at the SkyLift Park
Experience the magic of the season at the Gatlinburg SkyLift Park! The SkyLift and SkyDeck are covered with Christmas decorations and thousands of twinkling lights. Take in the gorgeous views of downtown Gatlinburg illuminated with Christmas lights as you relax on the deck with a cup of hot chocolate. For a memory you'll be able to cherish forever, walk across the Gatlinburg SkyBridge! America's longest pedestrian suspension bridge is transformed into a tunnel of lights.
6. Anakeesta's Enchanted Winter Celebration
How does twinkling holiday lights, Christmas decor and hot chocolate around a fire pit sound? Visit Anakeesta's Enchanted Winter Celebration! Walk from Firefly Village to Vista Gardens through a 1000′ canopy of lights, take a picture in from of the attraction's giant snow globe, or relax around the fire as you take in the scenery. During this special holiday event Anakeesta will have winter food specials and specialty drinks like their famous Holiday Wassail! If you're lucky enough to visit when it snows, you'll have gorgeous views of Mount LeConte blanketed in white. It's a holiday celebration you won't want to miss.
7. Visit Shadrack's Christmas Wonderland in Sevierville
Shadrack's Christmas Wonderland in Sevierville is a spectacular holiday event with dozens of visual light displays you can enjoy without leaving the comfort of your vehicle. The thousands of lights are synced to music that you can hear in your car! In addition to the incredible light show, guests can visit Santa's Workshop, where you'll find interactive activities, a petting zoo and pony rides! Children will even get the chance to take a picture with Santa Claus! You'll be able to purchase hot chocolate, coffee and snacks in Santa's Workshop if you need a refreshment!
8. See Lights from the Gatlinburg Space Needle
The Gatlinburg Space Needle provides amazing panoramic views of Gatlinburg, with the Great Smoky Mountain National Park in the background. It's a great place for you to see picture-perfect views of all the beautiful Christmas light displays. At 407' tall, the Space Needle offers 360-degree views of all the Christmas action below.
9. Shop at the Christmas Place
Got any last-minute Christmas shopping to accomplish? Visit The Christmas Place! If you're running behind on decorating for Christmas or want to stock up for next year, you'll find gorgeous Christmas decorations and all the Christmas necessities, such as tree-toppers, garland and ornaments. You'll also find Christmas gifts for everyone, from train sets, to puzzles, to jewelry and apparel! Pick out cute embroidered Christmas stockings to hang by the fire in your cabin, or purchase a Christmas tree! The Christmas Place has everything you need to celebrate the Christmas season in style.
10. Go to Smoky Mountain Christmas at Dollywood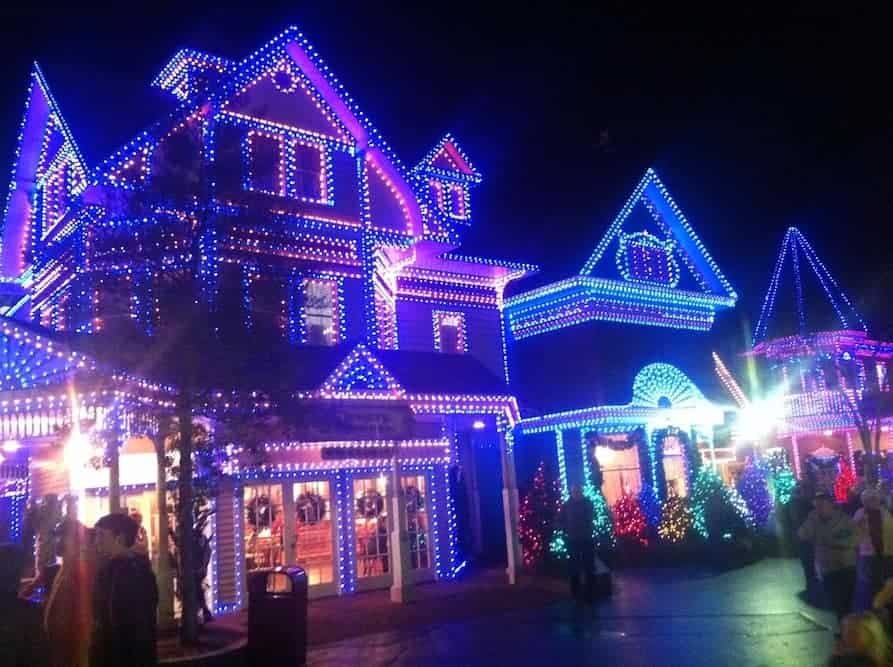 Dollywood is beautiful during the Christmas season, and Smoky Mountain Christmas at Dollywood is an experience the whole family will love. You'll be able to see wonderful light displays and live Christmas shows celebrating the true meaning of the holiday. Go see the Parade of Many Colors, an inspirational event which features floats, interactive characters and more. Or, take your children to meet Rudolph and his friends get a special photo souvenir! Watch incredible performances such as Christmas in the Smokes and It's a Wonderful Life and enjoy all that Dollywood has to offer.
11. Shop at The Village in Gatlinburg
During Christmas, the Village Shops in Gatlinburg are decorated beautifully for the holidays. The Village is located in downtown Gatlinburg and has numerous shops, eateries and boutiques. All the shops are decorated with Christmas lights, trees, garland and more to create a picture-perfect Christmas setting. Stop by The Village to enjoy a hot cup of coffee or do some last-minute Christmas shopping while taking in the beautiful scene.
12. Go to the Christmas and Candle Shop At the Apple Barn
The Christmas and Candle Shop is part of the Apple Barn Village in Sevierville. When you celebrate Christmas in the Smoky Mountains, a visit to the Christmas and Candle Shop is a must! As soon as you step in the store, you'll be greeted by beautiful decorations, twinkling lights and the smell of freshly poured candles. Sort through nativities, cowboy boot stockings, winter-themed ornaments and stuffed bears to find the perfect Christmas gifts, all while listening to Gospel, Christmas and Country music softly playing in the background. It's a unique Christmas shopping experience you won't want to miss!
13. Attend the Christmas in the Smokies Bluegrass Festival
At the Christmas in the Smokies Bluegrass Festival in Pigeon Forge, the sights and sounds of Christmas come alive. Hundreds of fans crowd the Smoky Mountain Convention Center to hear an incredible lineup of bands and artists. It's a unique holiday celebration that bluegrass fans won't want to miss.
14. Enjoy Winterfest at The Island
You'll love visiting The Island in Pigeon Forge during the Christmas season! Not only can you do some holiday shopping at the different stores, but you can enjoy Christmas fun for the whole family too. Enjoy millions of bright Christmas lights, walk through the 40-foot Christmas tree, or listen to the sounds of the Christmas carolers. You can even get photos with Santa Claus when you visit! Of course you can also do all the other things you love at The Island, like ride the Great Smoky Mountain Wheel and see the Island Show Fountain's performance of water dance and light.
15. Visit the Titanic Museum
The Titanic Museum Attraction in Pigeon Forge is an unforgettable experience all year long for those interested in learning more about the Titanic, but it's even more amazing during Christmas. The entire ship is decorated for the holidays with glittering lights and festive décor that helps spread the joys of the season. In the gift shop, visitors can find hundreds of unique Christmas gift ideas and collectibles for all Titanic-lovers.
16. Have Fun in the Snow at Ober Gatlinburg
If you're dreaming of a white Christmas, you'll love spending Christmas in the Smoky Mountains! At Ober Gatlinburg, you'll be able to have tons of fun the "snow" regardless of the weather. The snow-making machines at the resort create a beautiful winter wonderland. Hit the slopes to spend the afternoon skiing and snowboarding. Don't worry if you don't know how; the resort offers lessons for beginners. If you don't want to ski or snowboard, try out snow tubing for an exhilarating ride!
17. Experience Gatlinburg's Winter Magic Tunes and Tales
Gatlinburg's Winter Magic Tunes and Tales is an entertaining Christmas celebration that includes music, Christmas characters and more for a perfect combination of history and humor! It's a holiday version of Smoky Mountain Tunes and Tales. Listen to your favorite Christmas songs with a mix of Appalachia, Bluegrass and Country while visiting with Santa's elves, Frosty the Snowman and Rudolph. This production is a holiday favorite in Gatlinburg!
When you celebrate Christmas in the Smoky Mountains, there'll be plenty of holiday cheer to spread around and countless ways to get into the Christmas spirit. Keep up-to-date with all the Christmas activities with our Smoky Mountain Calendar of Events!