Introducing SkyLand Ranch: a One-of-a-Kind Sevierville Attraction
A brand new attraction in Sevierville is now open: SkyLand Ranch. You haven't seen anything quite like this entertainment venue before n the Smokies! A $40 million project, SkyLand Ranch offers live entertainment, miniature animals, gorgeous views, a scenic chairlift, and more. We have all the details about this Sevierville attraction and what to expect when you visit!
What is SkyLand Ranch?
SkyLand Ranch is an exciting entertainment venue that overlooks a 100-acre farm and has a formal ranch look. It's located at one of the highest points in Sevierville, which gives visitors an escape from the hustle and bustle in town! This one-of-a-kind Sevierville attraction features rides, shops, eateries, daily entertainment, and more! It aims to attract visitors of all ages, from kids and teens to adults. There is something for everyone to enjoy at SkyLand Ranch!
What is There to Do at SkyLand Ranch?
SkyLand Ranch has a variety of onsite attractions. Your journey begins with a ride on the scenic chairlift, the Horizon Skyride, to get to the top. There are also shuttles and an open-air safari truck for those who don't enjoy heights. Once you step off the lift, there's endless entertainment to enjoy! Here are just some of exciting onsite attractions in SkyLand Ranch:
Mountain coaster
Daily entertainment
Retail barn
SkyLand Cafe & Bakery
Food trucks
And more!
One of the things we're most excited about is the miniature animals! Everything from miniature cows to miniature donkeys call SkyLand Ranch home. As far as the entertainment goes, visitors can enjoy performances from the Brad Hudson Band and Gary "Biscuit" Davis, along with presentations featuring the miniature animals!
About the Wild Stallion
SkyLand Ranch is home to the longest mountain coaster in the Southeast! The Wild Stallion provides visits a 1.25-mile ride at a speed you get to control. This an 8+ minute ride that's perfect during the day for scenic views of the Smokies and the night for sparkling city lights. You can purchase your Wild Stallion tickets separately from general admission to the Ranch, or you can get the combo ticket to enjoy both!
Food & Drink
You won't go hungry at SkyLand Ranch! Visit SkyLand Cafe & Bakery, a food barn that includes a sandwich shop, soups and salads, a homemade candy shop, ice cream, a bakery, and a coffee shop. Or, you can visit The Backyard at SkyLand Ranch — which is home to delicious food trucks! Buckn' BBQ has tasty BBQ and roasted corn, The Chuckwagon has chicken and burgers, and Sweet Darlin's Dessert Truck has all your favorite sweet treats.
Where is SkyLand Ranch Located?

SkyLand Ranch is located off the Parkway in Sevierville, TN. It's close to lodging, shopping, restaurants, and more. The official address is 1620 Parkway, Sevierville, TN 37862.
When Did the Sevierville Attraction Open?
SkyLand Ranch finished up the final touches and opened to the public on Nov. 4th, 2022. Guests were able to get a sneak peek about two weeks prior with the opening of the Wild Stallion Mountain Coaster! You can purchase your tickets at SkyLand Ranch when you arrive, or get your tickets online in advance!
More Things to Do in Sevierville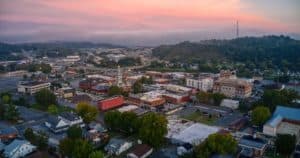 In addition to the grand opening of SkyLand Ranch, you can spend time enjoying all the other things to do in the area! Sevierville is home to fun attractions, like Ripley's Old MacDonald's Mini Golf, delicious restaurants, like The Apple Barn and Five Oaks Farm Kitchen, and plenty of shops, like Ogle Brothers General Store! Take a look at the best things to do in Sevierville for help planning your next vacation!