What are the Cades Cove Hours?
The Cades Cove Loop Road is one of the most popular places to visit in the Great Smoky Mountains National Park. The Cades Cove Loop Road winds through a valley surrounded by mountains so drivers have a chance to see all of the historic points along the way. If you plan to go driving through Cades Cove, there's a few things you need to know about Cades Cove hours, so you can choose the best time to visit. Learn more about Cades Cove hours now:
Cades Cove Hours
Cades Cove is open year round from sunrise to sunset, weather permitting.
The Cades Cove Loop Road is closed on Wednesdays to all vehicle traffic from May 5th through September 1st. This provides bicyclists and pedestrians the opportunity to explore the Cove without vehicles.
The Cades Cove Loop Road will be closed to all motorists, pedestrians, cyclists, and horseback riders from September 7 through September 27. The closure is so crews can resurface the roadway. The repairs are a preventive pavement treatment to help keep the road in good condition.
Cades Cove Hours for the Visitor Center
| | |
| --- | --- |
| Month | Hours |
| January | 9:00 a.m. – 4:30 p.m. |
| February | 9:00 a.m. – 4:30 p.m. |
| March | 9:00 a.m. – 5:00 p.m. |
| April – May | 9:00 a.m. – 6:00 p.m. |
| June – August | 9:00 a.m. – 7:00 p.m. |
| September – October | 9:00 a.m. – 6:00 p.m. |
| November | 9:00 a.m. – 5:00 p.m. |
| December | 9:00 a.m. – 4:30 p.m. |

The Cades Cove Visitor Center is located near the middle of the Cades Cove Loop Road.

Cades Cove Picnic Area
The Cades Cove Picnic area is open year round. There's not a pavilion, but there's over 80 spots for picnicking. The Cades Cove picnic area is open until sunset, except May through August when it is open until 8 p.m.
Best Times to View Cades Cove Wildlife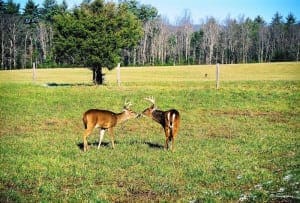 We know one of the main reasons people enjoy Cades Cove is because there is so much wildlife in that area of the national park. It can be difficult to see wildlife in many areas of the park due to the dense forests, but Cades Cove is a wide open space, so it's easier to see animals.
The best hours for wildlife viewing really depend on the types of animals you want to see. Many animals are most active in the evenings, so there's usually a good amount of wildlife wandering around at night.
We recommend getting up and making your way to Cades Cove early in the morning for the best chances to see wildlife. Cades Cove can be a pretty busy place, especially in the summer months. When it gets really busy, animals tend to stay somewhat hidden, so it's a good idea to arrive a little early to sit and watch for the animals. If you plan to have a picnic in the area, that's another great way to see the animals. Just remember to keep all of our animals in the national park safe by removing your garbage.
Now you know what Cades Cove hours are and when you can visit! While you plan your next trip, learn more about the Great Smoky Mountains National Park!