Lightning Rod at Dollywood Wins Wooden Coaster of the Decade Award
Have you been for a ride on the best wooden coaster of the decade? If you've ridden Lightning Rod at Dollywood you have! Coaster101.com named this thrilling wooden coaster as the best one of the past decade. We've gathered all the details for you on the Lightning Rod at Dollywood and this award!
Wooden Coaster of the Decade
As the decade comes to a close, Coaster101.com ranked the top attractions in the theme park industry in a number of different categories. Lightning Rod at Dollywood earned the top spot in the "Wooden Coaster of the Decade" category. Part of the reason this coaster was a frontrunner in this category was because it has the first launch on a wooden coaster and a record-breaking speed. John Stevenson, a writer for Coaster101.com, said that Lightning Rod "redefined the limits of a wooden coaster and provided thrill seekers a ride like no other."
About Lightning Rod at Dollywood
If you're looking for a thrill, you have to ride the Lightning Rod at Dollywood. It's the only wooden launch coaster in the world! Riders are launched from 0 to 45 miles per hour more than 20 stories up a hill before facing twin summit airtime hills and a daring drop. The 165-foot drop sends riders along the 3,800-foot track reaching a top speed of 73 miles per hour. This is the fastest speed for a wood coaster in the world!
More Dollywood Awards
The Wooden Coaster of the Decade award definitely isn't the first one Dollywood has earned this decade, and it's not the first for 2019 either! It earned Amusement Today's Golden Ticket Awards for Best Christmas Event, Best Guest Experience and Best Kids' Area. It also won a USA Today 10Best award for Best Theme Park Halloween Event for its Great Pumpkin LumiNights.
Other Popular Dollywood Rides
If you loved Lightning Rod, you'll love the other roller coasters at this world-class theme park! Here are just a few of our favorite Dollywood rides:
Wild Eagle
Wild Eagle is definitely a visitor-favorite at Dollywood. It's the first ride of its kind in the country! Riders will feel like they're actually soaring high above the Smoky Mountains on this wing coaster that sits 21 stories above Dollywood. What makes this ride unique is that riders sit on either side of the track so there is nothing but air above and below them!
Drop Line
If you're looking for a thrill, you have to try Drop Line. This ride lifts you up more than 20 stories above Dollywood's Timber Canyon. On the way up, the gondola spins slowly to offer guests a bird's eye view of the Smoky Mountains. Don't get too comfortable, though! Without warning, Drop Line plummets back to the ground.
FireChaser Express
For a more family-friendly roller coaster, try FireChaser Express. This is the nation's first dual-launch family coaster, which means you'll go both forward and backward! It's unlike anything you've ever ridden before.
Tennessee Tornado
Tennessee Tornado is a triple spiral-looping roller coaster that's designed to make you feel like you've landed inside a funnel cloud! You'll race around the tracks and down a 128-foot drop through an actual mountain at speeds nearing 70 miles per hour. This ride is only a quick 1 minute and 48 seconds, so be ready for some fast-paced fun!
Visit Dollywood During the 2020 Season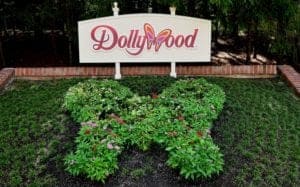 Though Dollywood's 2019 season is coming to a close, you have plenty to look forward to next season! The 2020 season brings with it a brand new festival and tons of fun. Whether you want to plan a trip to try the Lightning Rod at Dollywood, dine on delicious food, or see a show, there's something for everyone at this theme park. When you purchase your tickets through us at Visit My Smokies, you'll get free cancellation up to a certain date! Click the green box below to get your tickets today: