20 Can't-Miss Things to Do in the Smoky Mountains in 2020
The new year is bringing plenty of fun and adventure to the Smoky Mountains! Not only will visitors have the opportunity to enjoy all the excitement they're used to, but there are new things in store for you to try as well. To help you plan your visit to the area in the new year, we've made a list of 20 can't-miss things to do in the Smoky Mountains in 2020:
1. The Island
The Island is one of the top attractions in Pigeon Forge! While completion of the flying theater ride has been delayed until spring of 2021, there are still plenty of fun things to do here. Take a ride on the Great Smoky Mountain Wheel to see breathtaking views of Pigeon Forge and the Smoky Mountains, enjoy a performance of water dance and light from The Island Show Fountain, or dine at one of the popular restaurants here, like Paula Deen's Family Kitchen. There is plenty to do here and plenty more to look forward to in the upcoming years!
2. Dollywood
Visiting Dollywood is definitely one of the can't-miss things to do in the Smoky Mountains in 2020! Each year, the world-class attraction adds something new for visitors to enjoy. This year, you'll have a brand new festival! The Flower & Food Festival will be held in May and features nearly 500,000 flowers throughout the park, culinary creations inspired by spring, interactive displays and more. One of the highlights of the festival will be the Umbrella Sky, which has hundreds of colored petal parasols hanging in the air for you to walk under. And, of course, you can experience the best rides, dining, shops and shows that Dollywood has to offer!
3. Anakeesta
Anakeesta started introducing parts of its big expansion in 2019, and you have more to look forward to in 2020! Not only will there be a new dining option, but a 360-degree observation tower is opening in the new year. The tower will sit at the summit of Vista Gardens, 655 feet above downtown Gatlinburg! The tower will offer gorgeous views you won't want to miss. In the summer, cool off in the new outdoor play area that has wading streams, waterfalls and spots to relax.
4. Mountain Mile & Tower Shops
If you haven't had a chance to visit the Mountain Mile yet, put it at the top of your to-do list in 2020! Those looking for a thrill will love the Mountain Monster, which has 3 different rides for visitors to enjoy. After you have fun on the rides, browse some of the shops at the Tower Shops! Places opening in 2020 include REI, Currahee Vineyards and Mountain Rifle Coffee Company.
5. Chicken Guy!
Guy Fieri is bringing his restaurant to Gatlinburg! In 2020, be on the lookout for Chicken Guy! in Gatlinburg. The menu includes his famous chicken tenders, skewers, sandwiches and more, including more than 20 housemade sauces to choose from. Be sure to save room for the famous Triple Double Mint for dessert! If you're looking for a new place to dine in the Smoky Mountains, keep an eye out for this restaurant opening in Gatlinburg. An exact location and opening date have not yet been announced.
6. Double Decker Bus Tours
One of the newest things to do in the Smoky Mountains is the Double Decker Bus Tours! Hop on a two-story bus that is straight from the UK and tour the Smokies in a brand new way. These bus tours are much more than just a ride around town. You'll have a tour guide who tells you about all the things to do, where to eat, what attractions to see and more. Right now, the bus travels on a loop that includes 14 stops total in Sevierville, Pigeon Forge and Gatlinburg. In 2020, the attraction has plans to offer specialty tours of Cades Cove, Moonshine and Wine, and Harrah's Cherokee Casino!
7. Pigeon Forge Chairlift
You've seen all the chairlift attractions in Gatlinburg, but there's never been one in Pigeon Forge before — until now! In 2020, Pigeon Forge is getting its very own chairlift attraction that will take visitors high above Pigeon Forge. Not much information has been released yet about the attraction, but you can expect gorgeous views of Pigeon Forge and the Smoky Mountains!
8. Ober Gatlinburg
When you visit the Smoky Mountains in 2020, you'll have plenty of new things to do, but you don't want to miss some of the popular attractions that have been wowing visitors for years. Visit Ober Gatlinburg to experience everything from snow fun in the winter to water slides in the summer! This attraction is known for its skiing, snowboarding and snow tubing activities in the colder months, but it's a great place to be all year long. Go for a scenic ride on the Aerial Tramway, experience the thrills of the Ski Mountain Coaster or see your favorite Smoky Mountain animals in the Wildlife Encounter!
9. Ripley's Aquarium of the Smokies
Ripley's Aquarium of the Smokies is a can't-miss attraction for people of all ages! Everyone from kids to grandparents will love seeing and interacting with the aquatic animals. Walk through an underwater tunnel to see fish, sharks and a green sea turtle swimming above you, touch a live jellyfish or take a special behind-the-scenes tour of the aquarium! Ripley's also offers unique experiences that put you up close with the animals, like the Glass Bottom Boat Adventure and the Penguin Encounter. You'll have hours of fun at this indoor attraction!
10. Rowdy Bear Ridge Adventure Park
You've probably heard of Rowdy Bear Mountain in Gatlinburg, but have you been to visit Rowdy Bear Ridge Adventure Park in Pigeon Forge yet? This attraction features an outdoor tubing hill that's over 500 feet long and has a 70-foot drop! You'll have incredible views of the Smokies from the top of the hill before taking the thrilling ride down at speeds over 35 miles per hour. There is also a laser gun coaster, which is North America's first alpine flyer! You'll swing, dip and soar through the air while pointing and shooting your laser guns.
11. The Old Mill
The Old Mill will always be a can't-miss place in Pigeon Forge. Not only is it rich in history, it's a great spot to shop, dine and experience Smoky Mountain traditions. We recommend having breakfast at The Old Mill Restaurant and lunch or dinner at the Pottery House Cafe at least once during your vacation! Take in the views of the historic grist mill, do some shopping at Pigeon River Pottery and The Old Mill General Store, sample spirits at Old Forge Distillery — you'll have so much to do in The Old Mill Square.
12. Gatlinburg SkyLift Park
The Gatlinburg SkyLift has been a favorite attraction for many years, and it's added even more fun recently with the opening of the new and improved SkyLift Park! Ride the SkyLift up to the top of the SkyDeck, where you'll have panoramic views of downtown Gatlinburg. You can grab a bite to eat, do some shopping or just relax. If you're looking for an adventure, walk across the Gatlinburg SkyBridge. The SkyBridge is the longest pedestrian suspension bridge in North America! The highlight is the glass panels in the middle of the bridge that allow you to look down directly below you.
13. Hike at the National Park
Your trip to the Smoky Mountains wouldn't be complete without a visit to the Great Smoky Mountains National Park! One of the best ways to explore is by going for a hike. There are more than 850 miles of hiking trails, ranging from easy to difficult to accommodate all types of hikers. Some of the most popular trails are Laurel Falls, Abrams Falls and the Gatlinburg Trail.
14. See a Show
The Smokies are known for their entertainment! You don't want to miss the opportunity to see one of the shows here. Whether you want a comedy or a musical performance, there's a show for you here. For both a delicious dinner and a fun show, visit the Hatfield & McCoy Dinner Show, Watch as the two feuding families try to settle their differences mountain style while you enjoy an all-you-can-eat feast of fried chicken, mashed potatoes, creamy soup and more.
15. Rocky Top Wine Trail
The Smoky Mountains are home to many different wineries, and you can sample wines from the most popular along the Rocky Top Wine Trail. The Rocky Top Wine Trail consists of 5 local wineries: Hillside Winery, Apple Barn Winery, Apple Barn Cider House, Mountain Valley Winery and Mill Bridge Winery. Your journey starts at the winery of your choosing. Pick up a passport and get it stamped at each location. Once you visit 3 wineries, you'll get a free souvenir wine glass, and after a visit to all 5 you'll get another free gift. The wine trail is a great way to taste the finest local wines in town, and it's completely free!
16. Ole Smoky Moonshine
Of course one thing the Smoky Mountains are known for is moonshine, and you won't want to miss a visit to Ole Smoky Moonshine. Stop by The Holler in downtown Gatlinburg for $5 samples of their signature flavors like White Lightnin' and Blue Flame. You'll be able to take in the entire process of the moonshine stills from beginning to end and speak to the distillers. There's also a location at The Island, where you can sample moonshine and listen to live bluegrass music daily!
17. Apple Barn
The Apple Barn has become a staple in the Smoky Mountains. Visit the Cider Mill to sample some of the famous cider, sample wine at Apple Barn Winery, go shopping at the General Store, or satisfy your sweet tooth at the Apple Barn Candy Factory! One of the main attractions to the Apple Barn is the food. You have to enjoy at least one meal at Applewood Farmhouse Restaurant or Applewood Farmhouse Grill. Each meal starts off with delicious apple fritters and apple julep, and you can visit for breakfast, lunch or dinner!
18. Three Bears General Store
You have to stop by Three Bears General Store when you visit Pigeon Forge! You'll be able to find the perfect souvenir in this 40,000 square-foot store. Find everything from Christmas ornaments, to t-shirts, to a Make-Ur-Bear Factory! Speaking of bears, this store is home to a live bear habitat. Before your shopping adventure, step outside to see and feed the 3 black bears!
19. Take a Scenic Drive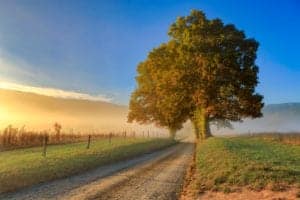 Another great way to explore the Smoky Mountains is by taking a scenic drive. One of the most popular scenic drives is the Cades Cove Loop Road. This 11-mile, one-way loop includes historic structures, mountain views and more. It's one of the best spots to see wildlife because of the open fields, especially black bear! If you're visiting the Smokies in the winter, please note that the road to get to Cades Cove is closed through the end of February. Other popular scenic drives include Newfound Gap Road, Foothills Parkway and Roaring Fork Motor Nature Trail.
20. Stay in a Smoky Mountain Cabin
To guarantee you have the best vacation, stay in a Smoky Mountain cabin! Cabin rentals offer all the comforts of home, along with all the benefits of being in the Smokies. Enjoy a private location in the heart of the mountains with gorgeous views, a hot tub, a fireplace and everything else you need for a perfect stay. Cabins range in size to accommodate all vacation types, from romantic getaways to family reunions. Choose from cabins with game rooms, theater rooms, indoor pools and so much more!
These are just some of the can't-miss things to do in the Smoky Mountains in 2020. Check out more ideas of what to do on your vacation, then start planning your visit!