Honeymoon Travel Guide: Romantic Things to Do in Gatlinburg and Pigeon Forge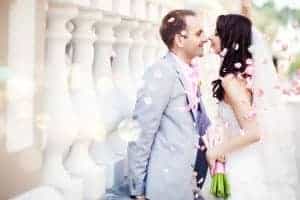 The Smoky Mountains are the perfect place for a honeymoon or romantic couple's vacation, offering a balance of relaxation and excitement. Vacationers could simply be happy sipping sweet tea from a rocking chair while getting lost in the stunning seasonal mountain views. If couples choose to only do only that, though, they'll miss all the wonderful things the Smokies have to offer.
The area boasts charming Southern qualities with modern attractions, providing a variety of options to reflect the interests and budget of any style of visitor. The Smoky Mountain Honeymoon Travel Guide, provided by Visit My Smokies, covers all the romantic places to visit and things to do in Gatlinburg, Pigeon Forge and Sevierville.
For Rest and Relaxation
Couple's Massage
Newly married couples can begin their happily-ever after with a relaxing couple's massage at the Spa at Pine Mountain. With a fireplace and two person spa shower, the side-by-side massage in a private suite is the perfect way to let go of any stress left over from wedding planning.
Couples can enjoy a variety of massage options from half an hour to nearly two hours of soothing spa experiences, including an aromatic herbal bath and fruit tray.
Wine Tasting
With five wineries within twelve miles, the Rocky Top Wine Trail is an ideal choice for couples who want to sit, sip and relax. Each of these wineries boasts local wines and unique flavors.
For a day of sightseeing and wine tasting, the Rocky Top Wine Trail offers a four-hour tour of all five wineries, including a free wine glass and t-shirt. Guests of the wineries will learn about the rich and abundant history of Gatlinburg and Pigeon Forge.
For Laughs
Dollywood
To feel like a kid again, Pigeon Forge theme park Dollywood provides visitors exciting roller coasters, quaint shops and laugh-out-loud shows. This year, the new FireChaser Express is set to become the first dual coaster in Tennessee.
Splash Country
Adjacent to Dollywood, Splash Country is a warm weather favorite. Open from Memorial Day to Labor Day, the water park features an 8,000 square foot wave pool, a lazy river and Tennessee's first water coaster.
For Shopping
The Area's Largest Shopping Outlet
The outlets in Sevierville are home to more than 100 popular factory outlet stores. The outlet mall also offers great discounts and the largest selection of shopping in the area. All located in a convenient central area, visitors can park and browse the storefronts without driving from place to place.
Pigeon Forge Factory Outlet Mall
Known as the Red Roof Mall, the Pigeon Forge Factory Outlet mall offers a variety of stores. The outlet mall is located directly on the Parkway, so it's an easy drive for couples who want short travel times.
For Sightseeing
Gatlinburg Sky Lift
The Gatlinburg Sky Lift provides a scenic view of Gatlinburg from 9:00am to 9:00pm each day. Daytime riders see the mountain views and blue skies, while evening riders experience the spectacular city lights of Gatlinburg.
Reaching 1,800 feet high, the Sky Lift also takes a photo as you soar to the top, where you can purchase a copy for a souvenir. At the top, you can walk around or sit a while to admire the picturesque mountain and city views. For things to do in Gatlinburg, this should definitely top the list.
Gatlinburg Space Needle
From a glass elevator, ride more than 400 feet to breathtaking views of the Smoky Mountains. This 360 view is unmatched anywhere else, and the observation deck provides vacationers a learning experience of local geography and mountain history.
Gatlinburg Scenic Overlook
There's no better place to breathe in clean mountain air and view the beauty of the Smoky Mountains than the Gatlinburg Scenic Overlook. The Overlook offers clear views of Gatlinburg, including restaurants and attractions. This is the perfect spot to capture photos to share with family and friends upon returning home.
For Adventure
Hiking and Picnicking
If you're coming to the Smokies to honeymoon, you simply can't miss a trip into the Great Smoky Mountains National Park. Two of the best ways to have a romantic outdoor adventure are hiking and picnicking.
Hikers can find gorgeous waterfalls and historical home sites, while picnicking couples can cuddle up and enjoy the scenery after a tasty meal. No matter what you decide to do while in the area, be sure to put the Great Smoky Mountains National Park on the itinerary.
Ice Skating
Ober Gatlinburg is an amazing mountain ski resort, but it boasts year-round activities as well. Their indoor ice arena is an inexpensive and fun place to visit while in Gatlinburg. There's nothing quite as fun as holding hands while helping each other skate and stay upright. For only $9.00, guests have a three hour session on the ice, including skate rental.
Whitewater Rafting and Kayaking
Those who have been white water rafting normally wouldn't name it as a romantic vacation option, it is one of the most fun adventures in the Smokies. For warmer months, spending time in the sun and water are the perfect addition to a romantic retreat.
Horseback Riding
Horseback riding gives vacationers the opportunity to see natural aspects of the Smokies that are unique and not always seen on walking trails and auto tours. There's no need to worry about having experience because trained guides will make sure you're kept safe and sound from start to finish. With rides ranging from half an hour to two hours, couples can choose the length of ride.
Are there any romantic places you love to visit while in the Smoky Mountains? We'd love to hear about your favorite things to do in Gatlinburg and Pigeon Forge, so let us know in the comments section below.