4 Amazing Facts About Smoky Mountains Vacations You Need To Know
If you love vacationing in the Smoky Mountains, then you are not alone! We took a survey of recent area guests and asked them how often they visit the mountains. From their answers, we discovered a ton of facts about Smoky Mountains vacations that were pretty surprising!
Find out what these vacationers had to say with the infographic below!
Smoky Mountain Vacations By The Numbers
1. People Taking Longer Vacations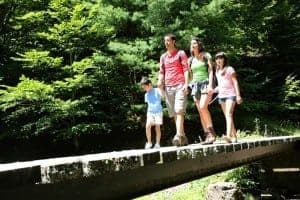 Taking a Smoky Mountain vacation is no longer limited to a long weekend or holiday getaway. In fact, you may be surprised by how long travelers actually spend in the Smokies throughout the year.
According to our survey, the majority of participants reported that they spend 10-20 vacation days a year in the Smoky Mountains. What makes these facts about Smoky Mountain vacations even more impressive is that number has increased nearly 5% from 2014 to 2015.
In fact, the only areas we saw a decrease in the number of vacation days spent in the Smoky Mountains were where participants said they either spend none or less than 5 days in the area.
This means, not only are travelers spending more time here, they are encouraging their friends and family to do so as well.
2. Traveling Multiple Times A Year
From the breathtaking Smoky Mountains fall foliage to the vibrant wildflowers, there is always something new to discover and experience in the Smoky Mountains. That is why we were not surprised to see that many vacationers are opting to visit the area more frequently.
It used to be that you only went on vacation once a year. However, that trend has changed quite a bit over the last few years. We have seen a significant increase in the number of vacationers who visit the area multiple times a year.
In our survey, we found that 89% of recent guests said that they plan on visiting again within the next year. More so, 39.44% of surveyed guests said that they plan to visit the area again within the next 3-6 months, just in time to see the new season flourish!
3. Most Vacationers Stay in a Cabin
With all this traveling you're about to do to the Smokies, you probably want to know where to stay during your next adventure. And, you're in luck! You have a wide variety of relaxing places to stay in the Smoky Mountains to choose from.
Based on our survey, over 56% of travelers prefer to stay in a Smoky Mountains cabin during their vacation. A smart choice when you take into consideration all of the benefits that come with renting a cabin, including having access to a private vacation home, outdoor hot tub, full kitchen, scenic views, and more!
However, cabins are not your only option for a relaxing place to stay during your vacation. You can always join the other 43.89% of travelers who prefer to stay in a different type of vacation rental, including bed & breakfasts, condo rentals, and RV/campgrounds.
4. More Returning Guests
Lastly, we are excited to see that there is an increase in the number of returning guests we are receiving in the area. As the infographic shows, over 72% of Smoky Mountain vacationers have visited the area more than 4 times in the past year.
In terms of facts about Smoky Mountains vacations, that is pretty significant when you consider the businesses these travelers support when they visit here. Plus, if you travel more, you will be able to create that many more fond memories to carry with you in between trips. As we all know, it's the memories we make when on vacation that create the best souvenirs.
Now that you know what other vacationers are doing when they visit the area, it is time to discover your own facts about Smoky Mountains vacations by planning your next trip. You can start by booking one of our favorite relaxing places to stay in the Smoky Mountains. From cabins to condos to campgrounds, we have everything you need to find the perfect mountain getaway.