Top 4 Reasons to Plan a Great Smoky Mountains Camping Trip
If you're looking for the best way to enjoy the great outdoors in the Smoky Mountains, it's time to plan your camping trip! Spending a night underneath the Smoky Mountain sky is a great opportunity to take in the natural beauty of the area. Whether you want to go traditional tent camping or glamping, you can find it all in the Smokies! Check out the top 4 reasons you should plan a Great Smoky Mountains camping trip:
1. Campsites for All Types of Campers
When you go camping in the Smoky Mountains, you can choose from a variety of campsites. For those who prefer camping the old-fashioned way, traditional tent camping is available all throughout the area! For those who want to bring their RV, you can find a number of RV campgrounds in the Smoky Mountains. Many of the campgrounds feature facilities and amenities that make your camping experience better, like bathrooms and showers, grills, recreational areas, laundry facilities, and more. If you want to enjoy the outdoors but aren't crazy about the idea of sleeping on the ground or in an RV, try glamping! Under Canvas is one of the best places for glamping, offering safari-inspired tents with comfortable beds, showers, sinks, and flushing toilets.
Whatever your preferred camping style is, you'll be able to find the perfect spot in the Smokies!
2. Gorgeous Scenery
One of the best reasons to go camping is that you'll be surrounded by gorgeous scenery! You can wake up to a beautiful Smoky Mountain sunrise or take in stunning mountain views. Instead of having to take in the sights through a window or in the distance, you'll be in the middle of it all. Gather around the campfire at night as the sun sets, and bring your camera along to capture all of the picture-perfect scenery!
3. Close to Other Exciting Outdoor Activities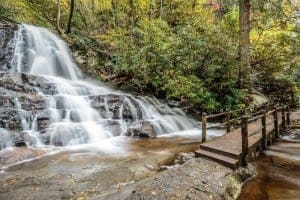 If you're craving outdoor adventure, that's definitely a sign you should plan a Great Smoky Mountains camping trip! When you go camping, you'll be near all of the best outdoor activities. The Great Smoky Mountains National Park is home to more than 850 miles of hiking trails for you to explore. Trails range from easy to strenuous and feature things like waterfalls, historic sites, and wildlife. You can also go white water rafting and enjoy a thrilling ride down the Pigeon River, or go ziplining and get a bird's eye view of the mountains! Camping truly provides the best opportunity to enjoy the great outdoors.
4. Relax & Unwind
When you need some time away to escape from the stress of everyday life, plan a camping trip! There's nothing like some fresh mountain air and Smoky Mountain sunshine to help you relax. In addition to the great outdoors, you can take advantage of campground features and amenities to unwind. Sit back around the campfire and roast marshmallows, go fishing in the river, or play a game of volleyball or basketball. Some campgrounds even have an outdoor swimming pool so you can cool off during the warmer months! End your evening stargazing before getting a peaceful night's rest.
Book Your Great Smoky Mountains Camping Trip
Now that you know all the reasons you should enjoy a Great Smoky Mountains camping trip, it's time to start planning! Browse through the best Smoky Mountain campgrounds and book your trip today.