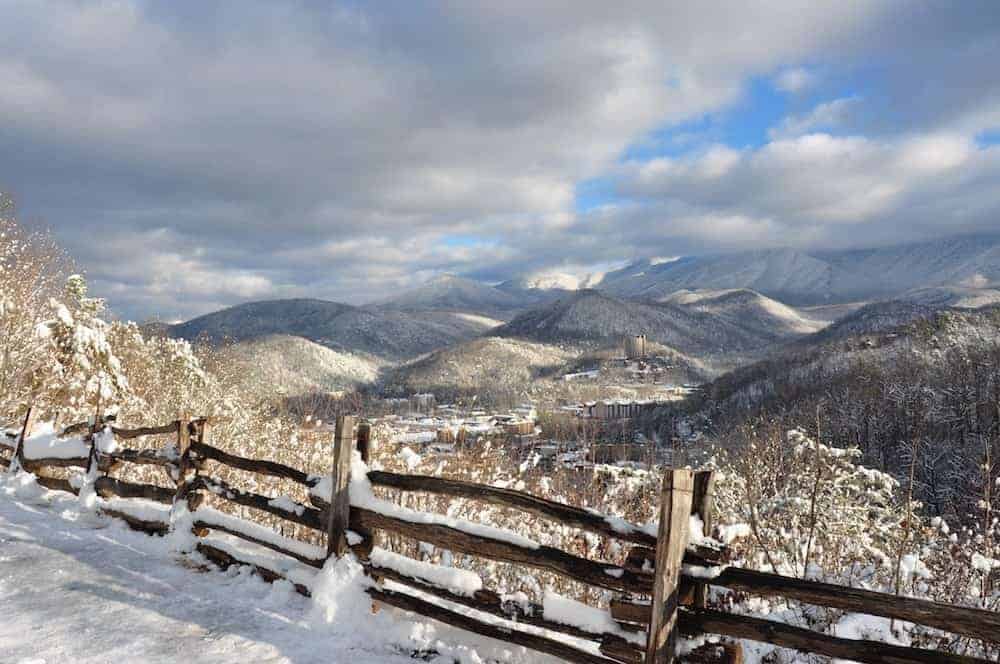 8 of the Best Things to Do in Gatlinburg TN in December
Listen To This Article - Click Play
Many people call the holiday season "the most wonderful time of the year", and we're inclined to agree with them! During the month of December, the city of Gatlinburg, Tennessee is transformed into a winter wonderland complete with festive decorations, special events, and (fingers crossed) snow-capped mountains. To help you make the most of your holiday vacation, Visit My Smokies has put together a guide to all of the best things to do in Gatlinburg TN in December.
1. Fantasy of Lights Christmas Parade
The Fantasy of Lights Christmas Parade is one of Gatlinburg's biggest annual events! This beloved tradition brings thousands of visitors to the downtown area to see beautiful floats, marching bands, whimsical balloons, musicians, dancers, and, of course, Santa Claus. Scheduled for December 1, 2017 at 7:30 p.m., this year's parade will begin at Baskins Creek Bypass on the East Parkway and end at Traffic Light #10 on the downtown Parkway. We recommend arriving early so you can find a great spot to watch all of the fun.
2. Christmas Shopping in Gatlinburg
Don't worry if you're a little behind with your Christmas shopping; there is still plenty of time to find the perfect gift for everyone on your list in Gatlinburg! Our Smoky Mountain city is home to hundreds of stores that offer specialty items that you won't find anywhere else. For some helpful information, check out our guide to 4 Great Places to Go Christmas Shopping in Gatlinburg TN.    
3. Gatlinburg Trolley Ride of Lights
The city of Gatlinburg has some of the most spectacular Christmas lights in the Southeast! These $1.6 million LED light displays depict classic holiday scenes along with animals native to the Smoky Mountains, such as bears, deer, foxes, and rabbits.
For a special tour of the holiday decorations, visitors can take the Trolley Ride of Lights. Come to the Gatlinburg Mass Transit Center near Ripley's Aquarium of the Smokies at 6:30, 7:30, or 8:30 p.m. and hop aboard a trolley for a one of a kind journey through the downtown area. Tickets are just $5 per person, and children who sit on a parent's lap can ride for free. 
4. Winter Sports at Ober Gatlinburg
December marks the beginning of the skiing and snowboarding season at Ober Gatlinburg. The slopes typically open around the middle of the month, but if you can't wait until then, there are lots of other fun activities currently going on at Ober. Anyone over the age of three can enjoy snow tubing down the resort's specially designated hill. Thrill seekers will love Ober's Ski Mountain Coaster, an exhilarating ride with plenty of twists, turns, and corkscrews. Other exciting things to do in Gatlinburg TN in December at Ober include ice skating, an alpine slide, a scenic chairlift, and a wildlife encounter.
5. Smoky Mountain Tunes and Tales
Winter Magic Tunes and Tales is a wonderful holiday tradition in Gatlinburg! Talented performers will line the downtown Parkway on the Friday and Saturday evenings leading up to Christmas to provide excellent entertainment and spread good cheer. Visitors can expect to hear holiday music with a country twist in addition to historic (and humorous) stories from Gatlinburg's past. Be sure to bring the kids, because Santa Claus will be available for photos at the Anakeesta Parkway Plaza. 
6. Christmas in a Gatlinburg Cabin
A cabin in Gatlinburg provides an idyllic atmosphere for a Christmas celebration. With a toasty fireplace, fully furnished kitchen, and breathtaking views of the snow-covered mountains, you'll have everything you need to relax and enjoy the holiday. Cabins come in a variety of sizes, so you can get away for a quiet Christmas with your immediate family in a two bedroom property or have a massive reunion with all of your aunts, uncles, and cousins in a 16 bedroom vacation rental! To see a convenient list of over 600 properties in the area, check out our Gatlinburg TN cabins page.
7. Gatlinburg Ball Drop and Fireworks Show
If you're looking to start the new year off with a bang, you can't beat the Gatlinburg Ball Drop and Fireworks Show!  On the night of December 31, the area around the Gatlinburg Space Needle will host a free party complete with fun entertainment and around 50,000 spectators. When the clock strikes midnight, the Space Needle will erupt with an incredible fireworks display unlike anything you've ever seen. Trust us, this New Year's Eve celebration is one of the very best things to do in Gatlinburg TN in December!
To keep up with everything going on in the area throughout the year, check out our Gatlinburg Events Calendar!