Blaze Pizza: New Pizza Place in Pigeon Forge Coming Soon
A new pizza place in Pigeon Forge is coming soon named Blaze Pizza. The location will be a franchise of the chain restaurant. They specialize in fast fired pizzas you can totally customize to make your own. Learn more about this pizza place in Pigeon Forge coming soon below:
Blaze Pizza
Blaze Pizza is a fast casual pizza eatery chain based out of Los Angeles, California. They recently signed an agreement to open 16 restaurants in their southeastern target markets, and Pigeon Forge is one of them. When you order food, you walk up to the counter and tell them what you want. You walk with your pizza down the line, telling the employees what sauce, toppings, and finishes you want on your pizza. Then, it goes into the fast fire oven. They bring your pizza to you when it's finished, and you enjoy a delicious personal size pizza. As of right now, there's no announcement of where the restaurant will be located, but check back for future updates!
The Food
You'll find all kinds of amazing food on Blaze's menu. For the pizzas, the dough is made from scratch every morning. You can choose from their signature pies, including the Meat Eater, Veg Out, and White Top. If you want, you can also build your own pizza. Choose from classic red, spicy red, pesto, or white cream sauce. There are several kinds of cheeses to choose from, including mozzarella, parmesan, and ricotta. Get bacon, chicken, sausage, or pepperoni. Veggies you can get include spinach, tomatoes, onions, olives, and more. They are also finishes, such as pesto, balsamic glaze, arugula, and ranch. Blaze also has salads you can top with anything from their pizza topping selection.
Other Pizza Places in Pigeon Forge
Until Blaze Pizza is open, there are plenty of other pizza places in Pigeon Forge you can try! Find out where else you can get great pizza now:
Big Daddy's Pizzeria
Big Daddy's Pizzeria is a great local eatery where you can get pizza, salad, and sandwiches. They have the classics, such as cheese, pepperoni, supreme, meat, and veggie lovers. Plus, you can try one of their signature pies, such as the Taco Pie or Porky Pie. You also have the option of creating your own pizza. They have a huge selection of toppings and sauces so you can get exactly what you want.
Mellow Mushroom
Another chain pizza place in Pigeon Forge is Mellow Mushroom. There are actually two locations of this pizza place: one on the Pigeon Forge Parkway and one at The Island in Pigeon Forge. You can get all kinds of pizzas from here, such as their Great White, Pacific Rim, or the Kosmic Karma. They also have salads, sandwiches, and more.
J Del's Pizza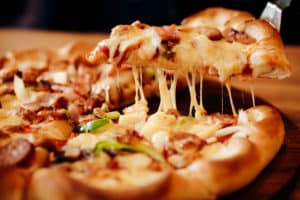 J Del's Pizza is a local pizza joint. Their specialties include meat lovers, veggie lovers, Del's All the Way, and more. You can also choose toppings and sauce to make your own pizza. What's really unique about J Del's is choosing what kind of crust you want! They have New York hand tossed and Chicago style thin crust.
We know you're excited for the new pizza place in Pigeon Forge to open. Until then, look through these other places to eat in the Smoky Mountains to see where else you want to visit when you're in town!