Top 4 Secrets for Saving Money at Dollywood
Serving millions of visitors each year, Dollywood is a must-visit attraction for anyone spending time in Pigeon Forge. Sometimes, when you have a family, visiting all of the attractions in the area can become pricey. To help you save money at Dollywood, we put together a few ways to save, so your entire family can enjoy spending time together in the Smokies.
1. Season Pass Savings
If you have plans to visit the theme park more than once during a season, you will receive the most benefit from a Dollywood season pass. A season pass will save you from having to purchase tickets every visit, and a pass costs less than the price of 2 single-day admission tickets. With a regular season pass, you can visit the park as many times as you want during the Dollywood season!
If you choose to upgrade to a Gold Pass, you will receive free parking every operating day, 20% off food and merchandise in the park and discounts on premium park experiences. If you plan to visit the park multiple times and make multiple purchases within the park, it's a great idea to invest in the Gold Pass. You'll be surprised at how much money you actually end up saving!
2. Ride the Trolley
If you don't want to purchase a Gold Pass, but you do want to save money on parking, we have the solution for you. You can catch a ride on the Pigeon Forge Trolley and get dropped off at Dollywood for a very low cost. A ride to Dollywood only costs $2.50 per person. Since parking is $15 per standard vehicle, a family of 4 can save approximately $5 on their trip to the Pigeon Forge attraction. Even though $5 may not seem like much, the savings start to add up quickly, and it's nice to have a little more to spend on items in the park!
3. Military Discounts
Dollywood is proud to offer retired and active military, disabled veterans and military reservists, as well as their spouses and dependents, a 30% discount on Dollywood admission.
4. Large Group Pricing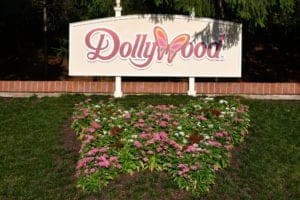 Dollywood offers group admission prices, for groups of 15 or more. So, if you're traveling with a lot of people, or you're planning a visit during a family reunion or special occasion, Dollywood can give you a special discount. For this deal, reservations must be made at least 2 weeks in advance. You can contact Dollywood at (888) 428-6789. If you're planning a family reunion or large get-together in the Smokies, you may also like our blog, '5 Steps to a Successful Group Vacation.'
Purchase Your Tickets to Dollywood
Receive free cancellation when you purchase your Dollywood tickets through Visit My Smokies! Click here to buy your tickets!
Do you want more want more ways to save money in Pigeon Forge and Gatlinburg? For other coupons and savings on attractions, dining, lodging and more, take a look at all of our Smoky Mountain coupons.