6 Tips and Tricks for Taking Your Kids to Dollywood
If you've never been to Dollywood before, you should definitely go the next time you visit Pigeon Forge! Everyone in your family will have a blast exploring the theme park, seeing shows, and enjoying the food! If you have young kids with you, you may be wondering what you should know before you go, and there are plenty of insider tips we can share with you! Check out these 6 tips and tricks for taking your kids to Dollywood:
1. Have your children measured so you know which attractions they can ride.
There's nothing more disappointing than waiting in line for a ride and getting to the front only to be told your child isn't tall enough. Don't let wasted time in line slow you down! As soon as you enter the park, head over to the Centralized Measuring Station. They will measure your children and give them a colored wristband. There are signs at each ride that correspond to the color of the wristband, making it easy for you to see which rides are safe for your children! This is a free service, so you don't have to pay for anything extra!
2. Bring a stroller for small children or rent a stroller at the park.
Dollywood does have some hills, and little legs will probably get tired throughout the day. You should bring your own stroller or rent one of the single or double strollers that are available at the park. You'll be able to push your little ones around without having to worry about them running off, and you have a place to put your belongings while you enjoy rides, shows, and food!
3. Take advantage of the refillable drinks and snacks.
All throughout the theme park, there are snack stands that offer refillable mugs and snack buckets. It's super convenient to refill these since you aren't allowed to bring in outside snacks and drinks into the park. You can refill the mugs with any beverage, and some refillable snacks include kettle corn and Dippin' Dots.
4. Find out where the family restrooms and baby care center are before you go.
No one wants to have a bathroom emergency while you're at Dollywood, so you should look up where the family restrooms, changing and nursing stations, and the baby care center are before you go. These facilities are located all throughout the park for your convenience. If you are still nursing, the baby care center in Showstreet is a climate controlled area with a private nursing area, two baby changing stations, and a restroom. You'll be glad you mapped these areas out before you get to the park!
5. Use park lockers to store belongings.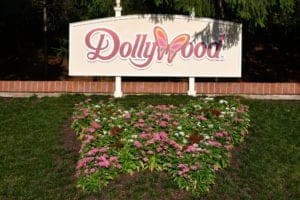 If you have some items you don't want to hold onto all day, you can always rent a park locker. There are two different kinds of lockers in the park: all day and floating. The all-day lockers are at the front entrance, and your items stay in this locker all day. The floating lockers are located at different rides, and you pay a fee and move your stuff from locker to locker as you enjoy the rides.
6. Use Parent Swap when you ride.
The biggest tip we have for parents taking their children to Dollywood is to use Parent Swap. This program is designed for people who have kids who cannot ride or don't want to ride certain attractions and need one person to stay with the other children. The way Parent Swap works is your group will enter the regular guest line. One adult waits with the child in a secure area while the rest of the group rides the attraction. Once the group returns, the adults will "swap" places with each other, and the other adult can ride with the children.
Best Areas of the Park for Kids
Now you know some of the best tips and tricks for visiting this Pigeon Forge theme park with kids! We know you're probably wondering where the best places to go in the park are with your family. Here are the best spots for families in Dollywood:
Wildwood Grove
Wildwood Grove is the newest addition to Dollywood, and it's designed just for the imagination of children! This whimsical section makes you feel like you've stepped into a magical woodland forest. Your kids will love riding Black Bear Trail and seeing the Wildwood Tree. Plus, there's an indoor area where you can cool down and watch your kids play!
Country Fair
There's nothing more fun than hanging out at the Country Fair with your kids! They'll love riding Lucky Ducky and Busy Bees while your older kids will want to ride the bumper cars and the Dizzy Disk! Everyone will want to grab some country fair snacks while you're in this area too!
We hope you feel more prepared to take your kids to Dollywood the next time you're in town! Want to know what else your family could do while you're visiting? Check out these other fun things to do in the Smoky Mountains.