The Truth About Newfound Gap Road and Driving Through the Smoky Mountains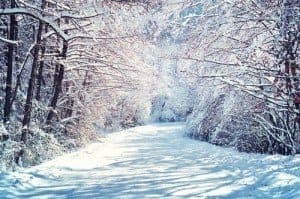 Everyone who visits the Smoky Mountains knows of the 33-mile long Newfound Gap Road. This roadway, more specifically known as U.S. 441, is the main route through the Great Smoky Mountains National Park to connect Gatlinburg, TN to Cherokee, NC. We've got the details about Newfound Gap Road and driving through the Smokies this winter:
How long does it take to drive the length of Newfound Gap Road?
For anyone who is trying to travel through the mountains to get from Point A to Point B, it should only take approximately an hour to drive. As you drive along Newfound Gap Road, you may notice the temperature change. The temperature at the highest point of the road is approximately 15 degrees cooler than Gatlinburg. This means that there is a good chance of snow and ice. Keep in mind, the road may close for safety in the case of black ice or excessive snow. In the case of a temporary closure, the alternative routes can add quite a bit of time to your trip.
When it snows, why can't they salt Newfound Gap Road?
Typically, salt is used on local roads to melt ice and snow. Being part of the Great Smoky Mountains National Park, it is not environmentally-friendly to use salt. The salt can harm the water and plants in the park, so park officials are only allowed to use sand which isn't always as efficient.
The drive along Newfound Gap Road is a beautiful one, filled with different ecosystems and types of forestry. There is a self-guided auto tour booklet available at any of the national park visitors centers. There are pull-offs along the road, so you can stop to take pictures of the stunning mountain views.
For the most up to date information about road closures in the Smoky Mountains this winter, take a look at Visit My Smokies' Facebook page. There, you can find out all of the details about what's happening in the Pigeon Forge and Gatlinburg areas.