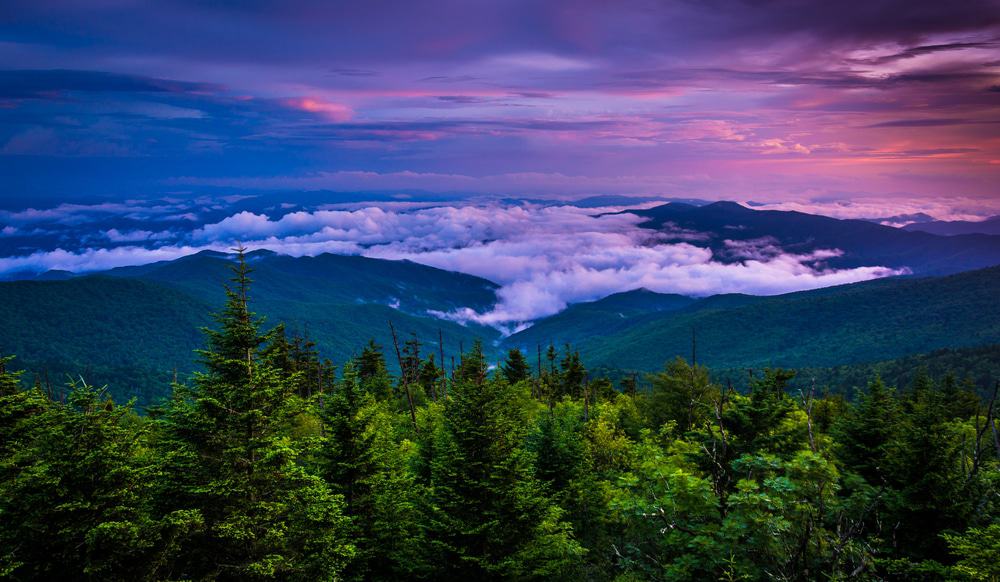 What Makes the Great Smoky Mountains National Park so Special?
The Great Smoky Mountains National Park is the country's most visited national park, and it continues to shatter visitation records year after year. In 2019 alone, it welcomed 12,547,743 visitors! So, what makes the Great Smoky Mountains National Park so special? We're here to tell you.
1. Over 850 Miles of Hiking Trails
One of the best ways to explore the beauty of the Smoky Mountains is to go for a hike! There are more than 850 miles of hiking trails in the park, providing plenty of opportunities to take in the gorgeous sights. The best part is that there are trails for everyone, from families with kids to avid hikers! They range in difficulty from easy to challenging, so you'll be able to choose a trail you're comfortable with. Hiking gives visitors the opportunity to be up close with nature and the picture-perfect views the area has to offer. Some things you might see along your hike include waterfalls, breathtaking mountain views, historic structures, wildlife and more. Here are some of the most popular hiking trails in the Smoky Mountains:
Laurel Falls Trail
Trillium Gap Trail to Grotto Falls
Alum Cave Trail
Abrams Falls Trail
Rainbow Falls Trail
Andrews Bald
2. Diversity of Wildlife and Plants
Another thing that makes the Great Smoky Mountains National Park so special is its diversity of wildlife and plants. According to the All Taxa Biodiversity Inventory, the park is home to nearly 20,000 species of wildlife, plants and fungi. While many people come hoping to spot a black bear, there is a variety of animals that can be seen in the park. There are 65 species of mammals, over 200 kinds of birds, 67 native fish species, and more than 80 types of reptiles and amphibians! In addition to the black bear, popular wildlife sightings include white-tailed deer, birds, wild turkey, salamanders, chipmunks and more.
As for plants, there are more than 1,600 flowering plant species, including 100 native tree species and over 100 native shrub species. Visitors love traveling to the park during spring and summer, when gorgeous wildflowers are abundant throughout the mountains.
3. Activities for Everyone
There is something for everyone in the Great Smoky Mountains National Park! Whether you want to relax and take in the views or go on an exciting adventure, you can do it all when you visit the Smokies. If you don't feel like exploring the park by foot, take a scenic drive and enjoy the views from the comfort of your vehicle! Popular scenic drives are the Cades Cove Loop Road, Roaring Fork Motor Nature Trail and Newfound Gap. Fishing is another popular activity in the park. There are about 2,900 miles of streams, all which allow fishing. Angling experiences range from remote, headwater trout streams to large, coolwater smallmouth bass streams. It protects one of the last wild trout habitats in the eastern United States!
Other activities in the national park include picnicking, wildlife viewing, camping and bicycling.
4. It's Free!
You don't have to spend a dime to explore all the best that the park has to offer! It's one of the few national parks that is free for visitors to enjoy. The fact that there's no entrance fee contributes to the park's wide success with visitation. So you might be wondering, why is there no entrance fee? The reason dates all the way back to the 1930s. The land that is now the park was privately owned. Tennessee and North Carolina, with the help of local communities, paid to construct Newfound Gap Road, and when Tennessee transferred ownership of that road to the federal government, it stated that "no toll or license fee shall ever be imposed…" to travel the road. Therefore, entrance to the park is free for all visitors!
5. Within a Day's Drive of 2/3s of the United States
Another reason the Great Smoky Mountains National Park is so popular is because it's within a day's drive of 2/3s of the United States! Visitors love the convenience of being able to hop in a car and be in the Smoky Mountain area in less than a day. It's situated close to Interstate 40, allowing people to arrive at the park without much trouble. Not to mention, you don't have to worry about any toll roads throughout the state of Tennessee! Check out how long it takes to get to Gatlinburg from these major cities in the U.S.:
Birmingham, AL – 4 hours, 30 minutes
Atlanta, GA – 3 hours, 45 minutes
Lexington, KY – 3 hours, 30 minutes
Louisville, KY – 4 hours, 30 minutes
Asheville, NC – 1 hour, 45 minutes
Charlotte, NC – 3 hours, 30 minutes
Cincinnati, OH – 4 hours, 30 minutes
Charleston, SC – 5 hours, 15 minutes
Greenville, SC – 2 hours, 45 minutes
Memphis, TN – 6 hours, 30 minutes
Nashville, TN – 3 hours, 30 minutes
Roanoke, VA – 4 hours
Huntington, WV – 5 hours
Now that you know what makes the Great Smoky Mountains National Park so special, we bet you can't wait to visit to see its beauty with your own eyes! Learn more about the national park, then start planning your trip.