6 Things You Forgot Happened in the Smoky Mountains in 2019
Another successful year in the Smoky Mountains is coming to a close. We had so many exciting things happen this year! From new restaurants and attractions to awards and recognitions, the Smokies got it all in 2019. While we gear up to start another year full of fun, it's a good time to reflect on some things that happened in the past 12 months. Check out these 6 things you forgot happened in the Smoky Mountains in 2019:
1. Ole Red Gatlinburg Had Its Grand Opening
While the announcement for Ole Red Gatlinburg came in 2018, Blake Shelton's restaurant and entertainment complex opened its doors to the public this year! Since March of 2019, both visitors and locals have been enjoying delicious meals, signature cocktails and live music from rising country stars. You never know who might pop up on stage at this spot in Gatlinburg! The grand opening event itself featured a concert by Blake Shelton and other country music stars. Next time you visit Gatlinburg, stop by Ole Red for both good food and good fun.
2. Wildwood Grove Opened
The largest Dollywood expansion ever opened this year! The 2019 Dollywood season brought visitors a new place to enjoy: Wildwood Grove. Wildwood Grove is a place where kids can let their imaginations run wild, and families can make memories together that will last a lifetime. Enjoy the magic of The Wildwood Tree, play in Hidden Hollow or hop on new kid-friendly rides! Wildwood Grove also introduced a new restaurant to the theme park: Till & Harvest. This Dollywood restaurant has a Smoky Mountain Mexican menu, with fresh bowls, burritos and more.
3. The Longest Pedestrian Suspension Bridge Came to Gatlinburg
The new and improved Gatlinburg SkyLift Park opened this year too, which includes the longest pedestrian suspension bridge in North America! People came from all over to cross the 680-feet-long Gatlinburg SkyBridge. When you reach its midpoint, you'll be able to look down directly below you through the glass panels on the bridge! The SkyBridge offers gorgeous views of the Smoky Mountains and is even more beautiful after a snowfall.
4. Black Bears Tried to Break into Vehicles
Each year we have what feels like countless bear sightings from Smoky Mountain visitors and locals. This year, there were quite a few instances caught on camera of bears trying to break into vehicles! Since the black bear sightings have slowed down a little now that the year is coming to an end, you may have forgotten the many videos and pictures that have been shared in 2019. Here's a look at some of the top stories of bears trying to break into cars:
5. The Island Announced Its $20 Million Flying Attraction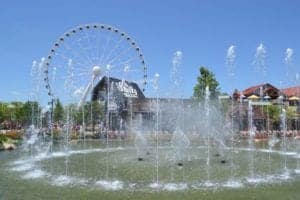 With all of the new and exciting things that opened in the Smoky Mountains in 2019, you might not remember some of the fun things you can expect in 2020! One important announcement that was made this year was that The Island is opening a $20 million flying attraction in the new year. This world-class flying theater ride combines a state-of-the-art ride system and a custom film that features the natural wonders and iconic landmarks throughout the country. There'll be movements, sounds, scents and mists along this ride! An exact date for the ride has yet to be announced, but you can expect it in early 2020.
6. Ripley's Aquarium of the Smokies Became a Certified Autism Center
Attractions and restaurants in the Smoky Mountains receive many awards and recognitions each year. One of the most honorable recognitions this year went to Ripley's Aquarium of the Smokies. The Gatlinburg aquarium earned certification as a Certified Autism Center. The designation was given by the International Board of Credentialing and Continuing Education Standards. It's given to organizations who have completed a training and review process to better serve individuals with sensory needs. Throughout the year, Ripley's Aquarium of the Smokies holds sensory-friendly events and nights that offer lowered lighting and music in the aquarium. There are also a number of quiet spaces for those who need a break while visiting the attraction.
These are just some of the exciting things that happened in the Smoky Mountains this year that you may have forgotten. As 2019 comes to an end and 2020 draws near, keep an eye out for brand new attractions and restaurants that will be opening in the next year. In the meantime, check out more attractions in the Smoky Mountains you can visit on your vacation.