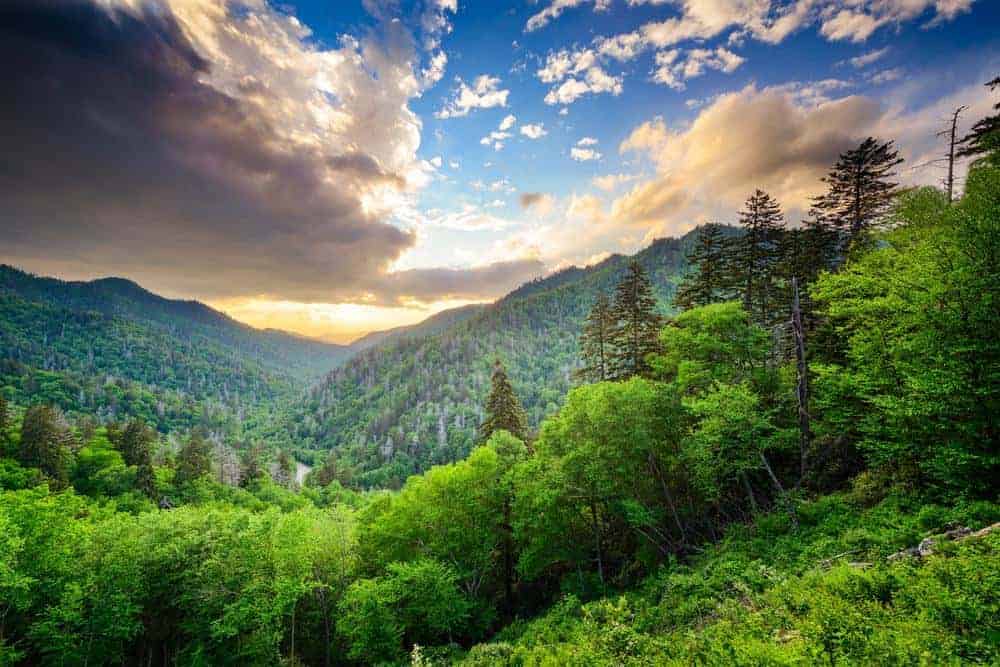 5 Things to Do in the Great Smoky Mountains National Park in the Summer
There's never a bad season to visit the Great Smoky Mountains National Park, but we think that summer is definitely one of the best! The area comes alive with wildlife and wildflowers, and visitors get to experience the true beauty of the mountains. To help you plan your visit, we've made a list of the top things to do in the Great Smoky Mountains National Park in the summer.
1. Go for a Hike
It's no secret that summer is one of the most popular times to go hiking in the Smoky Mountains! With more than 850 miles of hiking trails, there are some for every skill level, from beginners to avid hikers. You'll love seeing the Smokies blanketed in more than 1,000 kinds of wildflowers and the cascading wildflowers you'll run into on some hikes. It's also the best season to spot wildlife throughout the area! Wildlife can best be seen in open areas like Cades Cove, but you have a chance to see some native Smoky Mountain animals anywhere you hike. Some of the most popular trails for hiking in the summer are Laurel Falls, Andrews Bald, and the Gatlinburg Trail. For more of the best trails to hike when you visit, read our blog, "8 of the Best Smoky Mountain Trails to Hike in the Summer."
2. Take a Scenic Drive
If you want to escape the summer heat, explore the Smoky Mountains from the comfort of your car! The Great Smoky Mountains National Park is home to numerous scenic drives that allow you to take in the beautiful sights without leaving the air conditioning in your car. Travel the Cades Cove Loop Road, an 11-mile one-way loop that features historic sites, stunning scenery, and wildlife. You can also drive along Roaring Fork Motor Nature Trail, which is a 5.5-mile one-way loop that has mountain streams, views of an old-growth forest, and historic log cabins, grist mills, and other structures. Other popular drives are Newfound Gap and Foothills Parkway.
3. Have a Picnic
Summer is the perfect time to share a picnic with your family and friends! While you're visiting the national park, stop by one of the picnic sites to enjoy a delicious meal before getting back to exploring. Picnic sites even come with grills if you want to bring hot dogs or hamburgers to make for lunch. Just be sure to throw away all your trash and not to leave any scraps around to attract wildlife! Some picnic areas even have pavilions you can reserve if you have a larger group coming with you.
4. Go Fishing
If you like to go fishing, the Great Smoky Mountains National Park is the perfect place to be in the summer! There are about 2,900 miles of streams in the park, and fishing is allowed in all of them. Just make sure you have a valid Tennessee or North Carolina fishing license. The national park is home to one of the last wild trout habitats in the eastern United States, and about 20% of its streams are big enough to support the trout populations! There is a wide variety of angling experiences for you, from remote, headwater trout streams, to large, coolwater smallmouth bass streams. Visitors are allowed to fish in any of the streams from 30 minutes before sunrise to 30 minutes after official sunset.
5. Go Camping
To make your summer trip to the Great Smoky Mountains National Park even better, spend the night outside! Camping is a great way to bond with family and friends while being surrounded by the beauty of the Smoky Mountains. There are a variety of ways to camp in the Smoky Mountains, from tent camping, to RV camping, to glamping. Within the national park, there are backcountry campsites for backpackers, frontcountry camping that includes restrooms with running water and toilets, and group campgrounds. Take a look at all the best campgrounds in the Smoky Mountains to decide where you want to camp.
These are just some of the best things to do in the Great Smoky Mountains National Park in the summer! Learn more about the Great Smoky Mountains National Park, then plan your summer vacation.