5 Reasons You'll Love Going Camping in the Great Smoky Mountains
Singing songs around the campfire, roasting marshmallows, stargazing — you can do all this and more when you go camping in the Great Smoky Mountains. Camping is one of the best ways to experience the natural beauty of the mountains and all they have to offer. Next time you're planning a trip to the area, consider spending a night or two at one of the amazing campgrounds or RV parks! Here are 5 reasons you'll love going camping:
1. Ultimate Outdoor Experience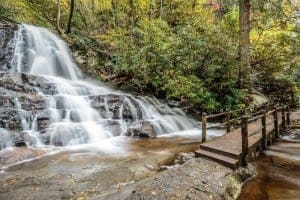 If you love the outdoors, there is no doubt that you will love camping. Camping is the ultimate outdoor experience, especially in the Smoky Mountains! Not only will you get to spend time admiring the natural beauty that's all around you, but there are plenty of outdoor activities for you to enjoy while you're here. Many of the Smoky Mountain campgrounds have facilities and amenities that enhance your time outside, like recreational areas for horseshoes, volleyball and more! And of course you don't want to miss the opportunity to explore the miles of hiking trails. You can see cascading waterfalls, incredible mountain views, and maybe even some wildlife! After a day of playing games and hiking, gather around the fire and cook hot dogs before getting a good night's rest underneath the starry sky. It doesn't get much better than that.
2. Amazing Views
A gorgeous view awaits you around every corner when you go camping in the Smoky Mountains. With everything you do, the Smoky Mountains provide the perfect backdrop. The views make it easy to just kick back and relax. Rather than staring at the beautiful scenery out a window, you can be right outside in the middle of it all. Let the stunning Smoky Mountain sunrise be your alarm clock in the morning and the sunset put you to sleep at night. Make sure to bring a camera with you on your camping trip so you can capture the picture-perfect scenes!
3. All Types of Camping
The best part about camping in the Smoky Mountains is that there are camping styles for everyone. If you don't want to sleep in a tent, there are other options available! Many Smoky Mountain campgrounds not only offer tent camping, but have RV sites and camping cabins available as well. They allow you to get the outdoor experience you crave while helping you avoid sleeping on the ground. No matter which way you decide to camp, you are guaranteed to have a great experience!
4. Saves You Money
Not only is camping fun, but it saves you money! Camping is a much cheaper alternative to staying in a hotel, and you can still find many of the same great amenities at a campground. If you stay at Smoky Bear Campground, you can take advantage of a bathhouse, a clubhouse with a full kitchen, a store with snacks, gifts and souvenirs, a heated pool and a hot tub! Many of the campgrounds are pet friendly, so you can bring your furry friend along for no extra charge. Camping allows you to have an amazing time in the Smokies without breaking the bank!
5. Family Bonding Time
Camping is the perfect way to spend some quality time with your family. All your stress and worries will fade away when you spend a night in the peacefulness of the mountains. Disconnect from the outside world for a while and take the time to soak up the beauty of the Smoky Mountains by each other's sides. Families with younger children will love playing games, making s'mores and singing songs around the fire pit, while families with older children will love trying more adventurous things like going for a hike or white water rafting. Whatever you choose to do, you will be creating memories with each other that will last a lifetime.
We love camping in the Great Smoky Mountains, and we know you will too! Take a look at some of the best deals on Smoky Mountain campgrounds and book your camping trip today.