Listen To This Article - Click Play
We all scream for ice cream — especially on a beautiful day when the sun is shining in the Smokies! Luckily, the Smoky Mountains are home to a variety of ice cream shops that are sure to satisfy your sweet tooth. To help you decide where to find your favorite frozen treat, we've put together a guide to the best ice cream shops in the Smoky Mountains.
1. The Old Mill Creamery
When you visit The Old Mill Creamery, you can taste a variety of homemade ice cream flavors! Whether you want a cone, a bowl, or to turn your ice cream into a sundae or shake, you can get it all at this amazing ice cream shop. While you're there, try one of the creamery's signature line of ice creams made with ingredients from other shops in The Old Mill!
Recommended Treat: Whiskey Ribbon Ice Cream, laced through with Old Forge Distillery moonshine and homemade fudge.
2. Apple Valley Creamery
The Apple Valley Creamery is a part of the Apple Barn in Sevierville. It carries on the Apple Barn's tradition of "made on the farm." When you step foot into the old-time ice cream parlor, you'll find not only homemade ice cream, but other sweet treats as well. The Creamery makes a variety of ice cream flavors that rotate throughout the seasons. All of it is handmade from the finest ingredients, resulting in some of the best ice cream you'll ever taste. While you're there, explore the rest of the Apple Barn, which has a winery, a candy shop, 2 great restaurants and more!
Recommended Treat: Banana Split
3. Curl de la Creme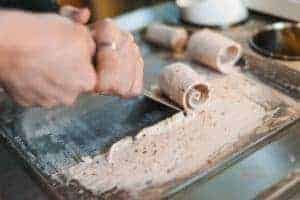 Have you ever been to Curl de la Creme in Pigeon Forge? If not, you should definitely give it a try! This family-owned ice cream shop specializes in made-to-order rolled ice cream. It's made right in front of your eyes! The best part is that you get to add in whatever flavors and toppings you want, from cookies, to fresh fruit, to sprinkles.
Recommended Treat: Vanilla mixed with Oreos, topped with whipped cream and Oreo crumbs
4. Mad Dog's Creamery
Mad Dog's Creamery and Donuts has a full selection of hand-dipped premium ice cream, soft serve, sundaes, banana splits and so much more! You'll be able to choose from 24 different flavors of ice cream, from Chocolate Chip Cookie Dough to Strawberry Cheesecake. You can even get milkshakes! And if you brought your furry friend along with you to the Smoky Mountains, Mad Dog's is dog friendly. They even have water bowls, toys and treats for your dog!
Recommended Treat: Two scoops of Caramel Pie Ice Cream on a Waffle Cone
5. The Village Cafe and Creamery
You can never go wrong with a trip to The Village Cafe and Creamery! Not only will you find some of the best ice cream in town, but you can also choose from shakes, malts, floats, sundaes and old-fashioned sodas. If you want something cold but aren't in the mood for ice cream, try one of their smoothies, slushies or shaved ice!
Recommended Treat: Butter Pecan Ice Cream
6. Glades Soda Fountain
For a taste of the past, head to Glades Soda Fountain in the Gatlinburg Arts & Crafts Community! This small ice cream shop in the Smoky Mountains proudly serves old-fashioned ice cream sodas, sundaes, malts and shakes that are sure to satisfy your craving for a frozen treat. You can expect to have both great ice cream and great service!
Recommended Treat: Root Beer Float
7. Maypops
What looks like your typical ice cream shop from the outside is so much more on the inside. Maypops Homemade Ice Cream & Donuts has a welcoming atmosphere with a variety of treats, not just of the frozen kind. If you're hungry, chow down on a turkey leg or a slice of pepperoni pizza before deciding what you want for dessert. There are donuts, ice cream, cupcakes and more!
Recommended Treat: Banana Pudding Ice Cream
8. Mayfield Dairy Bar
Mayfield Dairy Bar is located right on the Parkway and specializes in creatively flavored ice cream that will bring a smile to your face! You can decide from all your favorite Mayfield ice cream flavors, like Vanilla Chocolate Strawberry and Moose Tracks. No matter what flavor you decide on, you'll get the true taste of Southern homemade ice cream! Mayfield Dairy Bar also has funnel cakes, deep fried oreos, foot-long corn dogs and more.
Recommended Treat: Birthday Cake Ice Cream on a Waffle Cone with Sprinkles
9. Kilwin's
Kilwin's Gatlinburg is an old-fashioned shop that sells some of the best chocolate, ice cream and handmade sweets! As soon as you walk through the door, you'll be surrounded by the smell of chocolate, fudge and fresh, homemade waffle cones. The cones are so fresh that they are still warm when they are handed to you. The shop even lets you sample any flavor of ice cream you want!
Recommended Treat: Banana Fudge Ice Cream on a Waffle Cone
Don't miss your chance to visit these ice cream shops in the Smoky Mountains to try these frozen treats! Start planning your vacation by browsing all the amazing places to stay in the area.