Reel Good Spots: 4 Great Places to Go Fishing in the Smoky Mountains
Sometimes there's nothing more relaxing than casting a line! The Smoky Mountains feature hundreds of square miles of unmatched natural beauty and unique wildlife, making it the perfect place to go fishing! Whether you're a seasoned Smoky Mountain fisherman or just looking to try something new and exciting, the Smokies have the perfect places for you to have a blast. Here are 4 great places to go fishing in the Smoky Mountains:
1. Douglas Lake
Welcoming more than 1.7 million visitors each year is the vast and beautiful Douglas Lake! Conveniently located just minutes from Gatlinburg, Pigeon Forge and the Great Smoky Mountains National Park, this 28,000-acre lake is formed by the French Broad River and the tributaries of the Pigeon River. Douglas Lake has been rated a Top 5 Crappie Fishing Lake in the country and a Top 10 Largemouth Bass Fishing Lake! You'll also find smallmouth bass, bluegill, bullhead, carp, catfish, trout, walleye and more at Douglas Lake, making it a perfect place to go fishing in the Smoky Mountains!
2. Little Pigeon River
If you're a fly fisherman or have been fascinated by this unique method of fishing, the Little Pigeon River is where you need to be! Also known as Greenbrier Creek, the Middle Prong of the Little Pigeon River is a stream located in the Northwest part of the Great Smoky Mountains National Park! You'll be amazed at just how many rainbow trout, wild brook trout and smallmouth bass are all routinely caught by fly fishermen in the Little Pigeon River! The trout here tend to bite on all types of flies so you shouldn't have an issue catching one, but we recommend using a fly that imitates whatever species of insect is hatching at the time you visit.
3. Abrams Creek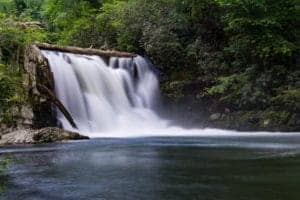 Abrams Creek is one of the best well known trout streams in not just the national park but in the entire Southeast! The rainbow trout here at Abrams Creek are the biggest you'll find in the park, plus you might even catch a smallmouth bass. Fly fishing and regular fishing can both be enjoyed at Abrams Creek, where a surplus of food makes for some of the biggest fish around! Abrams Creek is simple to get to as well! Just follow along the Abrams Falls Trail in the Western end of the Great Smoky Mountains National Park.
4. Herbert Holt Park
You'll find it all, including some great fishing at Herbert Holt Park! This park is home to Gatlinburg's Trout Rearing Facility, which holds the responsibility of maintaining a trout fishery, in particular rainbow trout, within the city limits of Gatlinburg. Translation: you won't have any issue catching some trout! Herbert Holt Park includes specific areas for "children-only fishing" and a handicap accessible fishing pier. In addition to being a great place to go fishing in the Smoky Mountains, Herbert Holt Park includes a playground area, picnic tables, walking trails, restrooms and more, making it an awesome place to bring the kids for a relaxing afternoon!https://www.visitmysmokies.com/blog/smoky-mountains/smoky-mountains-and-gatlinburg-fishing/
You're going to have a great time fishing in the Smoky Mountains at these places! Before you grab your bait, reel and rod, make sure to check out our guide to fishing in the Smoky Mountains!