8 Things You'll Only Understand if You've Been to Pigeon Forge
It's no secret that Pigeon Forge is one of the most popular tourist destinations around! From theme parks, to delicious restaurants, to shows, there are endless opportunities for fun. Everyone who's been to this incredible town knows that nothing can compare to it. Take a look at these 8 things you'll only understand if you've been to Pigeon Forge:
1. The best way to start your morning is eating breakfast at The Old Mill.
The key to a great vacation is a delicious breakfast each morning of your stay! You may have dined at some great breakfast restaurants in the past, but everyone who's been before can agree that there's nothing quite like The Old Mill. Serving hearty Southern breakfast dishes with homemade buttermilk biscuits, stone-ground grits, Old Mill seasonal preserves and more, it's no surprise why this restaurant has been voted the best place to have breakfast in Tennessee!
2. Indoor snow tubing does exist.
Did you know that indoor snow tubing exists? If you've been to Pigeon Forge before, then you do! Pigeon Forge Snow offers one-of-a-kind snow tubing fun. It doesn't matter if it's 30 degrees or 90 degrees outside — you can still enjoy the snow! This attraction has a whole hillside of snow tubing lanes, plus a Snow Play area where kids love building snowmen and snow forts. You won't find anything like it anywhere else!
3. Feeding goats on a roof is fun for everyone.
Have you seen goats on a roof before? If you visit Pigeon Forge, you can see AND feed goats on a roof! Goats on a Roof is located on Wears Valley Road and allows guests to send up some goat feed to the hungry goats on the rooftop and watch them chow down. After you feed the goats, you can enjoy gem mining, ice cream, shopping or riding a mountain coaster!
4. Nothing tastes better than the first bite of cinnamon bread from The Grist Mill.
If you've ever tried some of the world famous cinnamon bread from The Grist Mill, you know that nothing tastes better than the first bite. The bread is made right before your eyes! The bread is buttered and sprinkled with cinnamon sugar before it's served to give it its delicious flavor, and it melts in your mouth.
5. The only thing better than an entertaining show is dinner AND a show.
Sure, you've seen a show before, but have you had the chance to devour a home-cooked, four-course meal while you watch? If you've been to Pigeon Forge you have! The area is known for its popular shows, and the dinner shows are by far some of the best. Hatfield & McCoy Dinner Feud and the Pirates Voyage Dinner & Show are just two of the popular dinner shows you can experience. Enjoy fried chicken, creamy soup, dessert and more.
6. You don't have to go to Vegas to see a show fountain.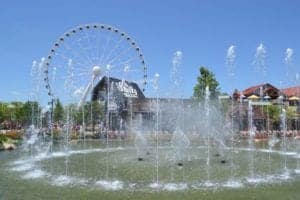 Vegas isn't the only place you can see a show fountain! The Island in Pigeon Forge is home to The Island Show Fountain, a state-of-the-art, multi-tiered fountain that puts on a presentation of water dance and light. It includes more than 89 nozzles that shoot out water that's perfectly choreographed to 14 songs. It's even more magical at night when colored lights are added to the show.
7. Fun doesn't have to be expensive.
If you've been to Pigeon Forge before, you know that fun doesn't have to be expensive! You can find plenty of things to do that are either free or affordable. The Island offers free admission, and you can enjoy the fountain, live bluegrass music, and window shopping without spending a dime. You can also visit Patriot Park, tour The Old Mill, sample moonshine, visit the Great Smoky Mountains National Park and more without having to break the bank. There's plenty of fun to be had that will easily fit in your vacation budget.
8. Dollywood.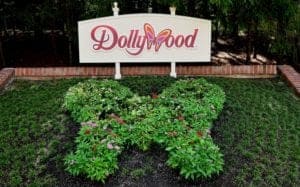 Our list wouldn't be complete without mentioning Dollywood. This world-class theme park is a must-visit on your Pigeon Forge vacation. You can read about all the great things it has to offer, but you won't understand just how great Dollywood is until you visit. With more than 40 rides, award-winning food, family-friendly entertainment and more, there is something for everyone at this popular attraction. Put your fears to the test on rides like Wild Eagle and Drop Line, enjoy some cinnamon bread, or go see a show! Dollywood also holds festivals throughout the year that visitors love, like the Harvest Festival and Smoky Mountain Christmas.
More About Pigeon Forge
Pigeon Forge was officially settled in 1830 when Isaac Love established an iron forge. His son, William, built The Old Mill 10 years later. Pigeon Forge remained a small community until the Great Smoky Mountains National Park was established in 1940. Since then, it has grown into the popular tourist destination it is today. The town is filled with family-friendly attractions, shops, restaurants, and entertainment.
We bet you can't wait to visit the area and experience all of these things and more! Before you go, learn more about Pigeon Forge, from its history to where it stands today, and then start planning your trip!