What's New at Dollywood in the 2022 Season?
It's no secret that Dollywood is one of the most-visited attractions in Pigeon Forge, and it's not hard to see why! Each year, the world-class theme park introduces something new for visitors to enjoy. Dollywood is constantly making changes to improve guest experience, and we want to share some of the new and exciting things happening in the 2022 season with you:
Dolly Parton Kicking Off Opening Season
While Dollywood officially opens to all guests on March 12, the park was open to season passholders at 10 AM on March 11! What's exciting about this season is that Dolly Parton herself is there to kick things off! This is our Smoky Mountain hometown hero's first appearance at the park since 2019! Watch the video of her at this season's opening below:
Renovations at Shops & Restaurants
During the offseason, Dollywood always has a variety of projects going on that will improve guest experience in the new season, and oftentimes these projects include renovations throughout the park. When visitors return this year, they'll notice one popular shop looks a little different. The Emporium got a facelift! Not only is the aesthetic improved, but the renovations will make it easier for workers to stock the shelves with all your favorite Dollywood merchandise. One restaurant that is undergoing renovations in the offseason is Victoria's Pizza. The kitchen will be updated to improve efficiency for workers, meaning you'll be able to get through the line faster! The restaurant itself will be enlarged to create more seating for visitors as well.
New Season Passes
Do you love visiting Dollywood more than once throughout the year? Then you don't want to miss out on the opportunity to get a season pass. For the 2022 season, Dollywood is introducing a brand new season pass structure (Silver, Gold and Diamond) that provides more for guests. Here's what to expect with the passes:
Silver – With the Silver Season Pass, visitors will get unlimited entries to Dollywood during the 2022 season, 2 Bring-A-Friend Free tickets and a $5 discount on single day tickets. Adult Silver Passes are priced at $149.
Gold – The Gold Season Pass includes access to all-new Golden Hours and Events, unlimited visits to the park, 4 Bring-A-Friend Free tickets, a $10 discount on single day tickets, free parking, and 15% off select food and merchandise. Adult Gold Passes are $204.
Diamond – With the Diamond Season Pass, visitors will receive access to Golden Hours and Events, unlimited visits to Dollywood and Dollywood's Splash Country, free parking, 20% off select food and merchandise, 6 Bring-A-Friend Free tickets and a $15 discount on single day tickets. These passes are priced at $314 for adults.
Wider Walkways
One change that will really benefit the guest experience are the wider walkways and more space for guests to spread out. Congestion has always been a struggle at Dollywood, but now the park is taking steps toward improvement! The park is creating wider walkways and better utilizing spaces throughout the park. Recently crews removed an old mine tunnel near the tracks for the Dollywood Express. This creates more space for visitors to walk, or stop and watch as the train rolls by.
Bigger Flower & Food Festival
The Flower & Food Festival has quickly become a fan-favorite festival at Dollywood, and in 2022, it's back and bigger than ever! There will be new iconic Mosaiculture displays that visitors will love, and hundreds of thousands of blooms throughout the park. And, of course, we can't forget about the food! The culinary team will create a menu full of items that highlights the tastes of spring in the Smokies.
More Drones at the Summer Celebration
Another popular festival is the Summer Celebration. In 2022, Dollywood is expanding the Summer Nights drone and fireworks show with even more drones! The show features hundreds of drones flying high above the park, telling a story with 3D animations and a symphony of light!
Hoot Owl Hollow
This new area will come to life during Dollywood's Harvest Festival! Hoot Owl Hollow will be located in Craftsman's Valley and will feature a number of owl-themed displays in the park and suspended in the trees. The festival also features thousands of carved pumpkins, performances from talented artists and Great Pumpkin LumiNights.
About Dollywood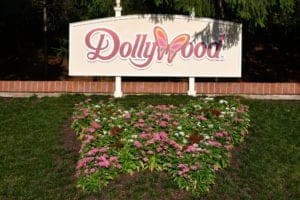 We bet you can't wait to experience everything that's new at Dollywood in 2022! Of course, all of your favorite shows, rides, restaurants and shops will be returning in the new season as well. Learn more about all the fun things happening at Dollywood, then start planning your adventure!