Everything New at Dollywood for the 2021 Season
Dollywood has been busy gearing up for the 2021 season. During the off season, they have made some changes to food and shows, while also working on rides and other parts of the park. You won't want to miss any of the new things the theme park has planned! Here's everything new at Dollywood for the 2021 season:
Mask Updates
Dollywood recently updated their mask policy. Fully vaccinated guests and children who are 12 and younger have the option to not wear a mask when they visit the theme park. This includes indoor and outdoor locations. Non-vaccinated guests who are older than 12 are still required to wear masks indoors, and masks are optional in outdoor areas where social distancing can be maintained. To comply with social distancing guidelines and maintain a safe environment, guests must schedule a reservation online or purchase a general admission ticket online.
Roller Coaster Updates
Lightning Rod is one of the most popular roller coasters at Dollywood, and it was the one ride that was down the most. The manufacturers of the ride have come in and created a hybrid track structure with a wood stack "Topper Track" and a steel "Ibox" track.
Blazing Fury also has some track updates because it is one of the most popular, and oldest, rides in the park. Thunderhead has undergone track updates as well over the last few off seasons to keep the ride up to par. Mystery Mine is another roller coaster that is getting track updates. The park has taken rider criticism into consideration and is trying to make the ride smoother.
Comfort for Guests
The park also has heard guests who say they wish there was more room to walk around and sit and eat food. When Dollywood first opened, the aesthetic was narrow, winding walkways, while now, people want more room to spread out. There are several walkways that have been extended, and there are plenty of areas that have expanded for more space. The Hickory House will have a covered eating area. Even the white chapel is getting renovations and improvements!
Updated Blacksmith Shop
If you've been to Dollywood before, you've probably seen the blacksmith shop. During the 2021 season, you may notice the shop has moved. It hasn't gone far and has only moved across the walkway. This move has provided more room for incredible crafts and the opportunity for guests to make their own knife!
New Experiences at Flower and Food Festival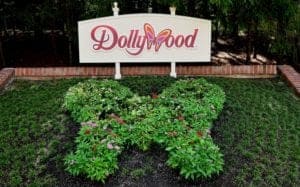 The Flower and Food Festival is returning to Dollywood this year. In 2020, the festival was delayed, so guests didn't get to enjoy the sculptures and food as long as they usually would have. It will run from April 23 to Jun 7. A new experience you'll be able to enjoy during the festival is Chalk Art. The artist will be at Adventures in Imagination area each day of the event from 10 am to 6 pm.
Of course, you'll still get to see the incredible flower structures and umbrella walkway, as well as the festival food. This year, a Dining Day Pass will be introduced. You can purchase the pass for $29.99 (or $27.99 for season pass holders). It allows you to try 5 different entrees available during the festival.
A new concert series is coming along with the festival called Melodies of Spring. Contemporary Christian artists, Southern gospel groups, and other artists will perform throughout the park. There will be over 25 artists and bands performing during the festivals! Some of them include Matthew West, Big Daddy Weave, The Martins, Ernie Haase and Signature Sound, The New Respects, and The Harlem Gospel Travelers.
Summer Celebration
Dollywood just announced that they are bringing a multi-sensory experience to their Summer Celebration. New 3D animations will be used with drones to create a colorful display. It will also include a musically-choreographed fireworks show. This product cost half a million dollars. The Summer Celebration will also include a DJ and energetic dancers to the streets of Wildwood Grove.
The 2021 season will be a big one for Dollywood. Wondering what else you can do when you're in town? Check out these other attractions in the Smoky Mountains!