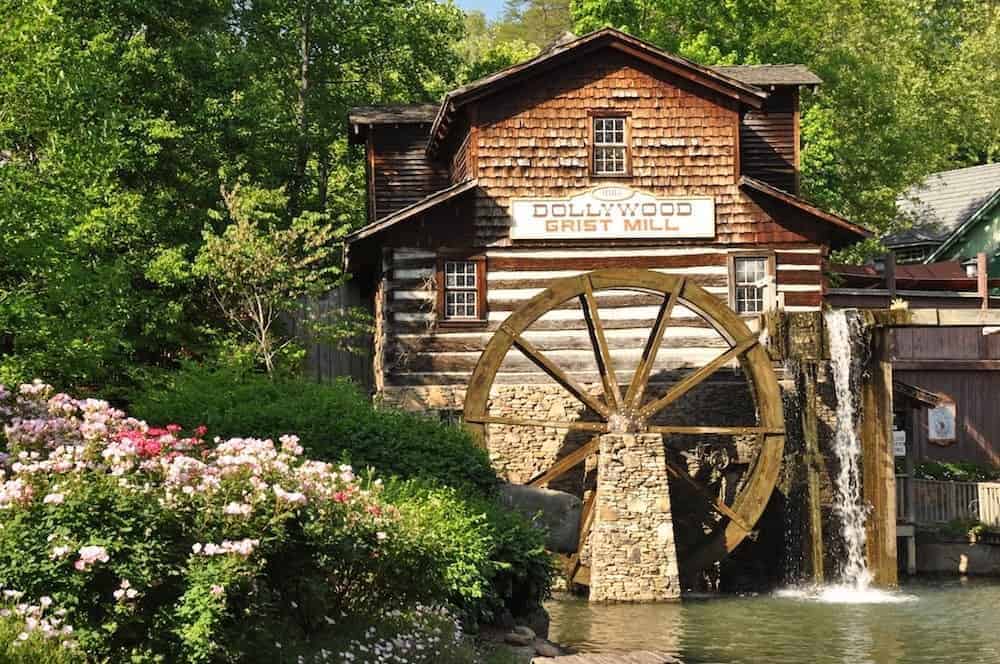 10 Basic Facts About Dollywood Absolutely Everyone Should Know
Dollywood is one of the most popular attractions and one of the most family friendly things to do in Pigeon Forge. But there's a few things you may not know about it! Keep reading because we're sharing 10 basic facts about Dollywood we think everyone should know:
Facts About Dollywood History
Dollywood is located in Pigeon Forge, Tennessee at the foothills of the Great Smoky Mountains National Park.
As one of the main tourist attractions in the area, it welcome millions of visitors year after year. It's estimated that Dollywood sees an average of 2.5 million people each year.
The park wasn't always called Dollywood. It was originally opened in 1961 as Rebel Railroad. Then, in 1970, it was bought and named Silver Dollar City. Then, about 10 years later, Dolly Parton came on board and they changed the name to Dollywood.
Facts About Dollywood Rides, Dining and Shopping
Dollywood has 48 rides and attractions, and that number grows each year as they continue to add new rides! From thrilling roller coasters to rides for kids, there is bound to be something to make everyone in your family smile. There is even a coal-fired steam engine train that circles the entire park, letting you have a back-in-time experience as you experience the natural scenery of the park.
Dollywood is known for having some of the best southern cooking around! Including full service, quick food carts and mouth watering treats located throughout the park, there are at least 27 different places to stop for meals or snacks when you visit Dollywood.
There's more than 35 places to shop at Dollywood in Pigeon Forge! Dollywood comes complete with specialty clothing, home furnishings and unique handmade crafts. Depending on the time of year that you visit, you may even be a part of Be sure to take home a special keepsake for your visit to remind you of the fun time you had at the park.
(See Related: 15 Dollywood Tips and Tricks for Saving Money at the Amusement Park)
Facts About Dollywood Festivals
To start off the year, the Festival of Nations brings performers and artists from all over the world from various countries, giving you the chance to explore other cultures during your vacation. Every year, there is something new, with crafts, music and dance performances that will have you wanting to visit again and again. You can learn about all of the Dollywood festivals by clicking

HERE

.
Each summer, Dollywood does a fireworks show after dark as part of its Great American Summer events. The park even stays open for extended, "late night" hours so you can ride roller coasters and other rides at night!
You can attend free gospel concerts during the fall season at Dollywood, during their Southern Gospel and Harvest Celebration. During the festival, you'll find music, crafts and plenty of harvest decor, but the gospel concerts are one of the most popular parts of the festival!
Dollywood lights up over 4 million holiday lights to decorate the park at Christmastime each year. Plus, the Dollywood holiday parade is something no one wants to miss! Dollywood also has several award winning holiday performances in the park along with the special delight of a light display in the center of the park synchronized with holiday music!
Buy Dollywood Tickets
To buy Dollywood tickets for your vacation, it's best to buy through Visit My Smokies. You can easily purchase tickets and we offer a free cancellation, so you don't have to worry about having a change of plans – you can easily get your money back! Just click here to buy your Dollywood tickets today.
Do you have any other facts about Dollywood to share? Be sure to tell us in the comments below!