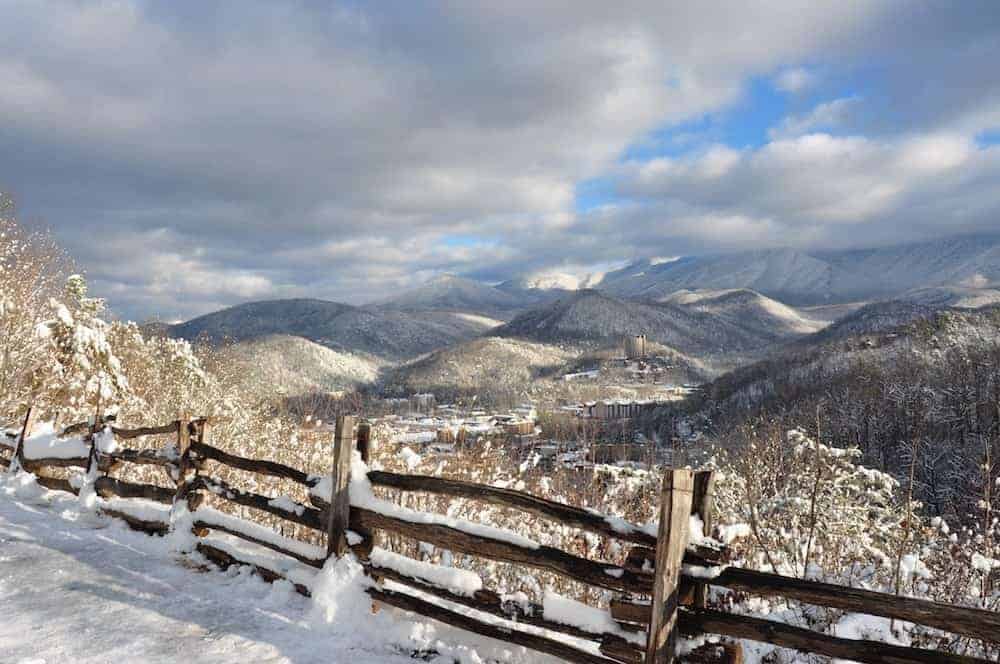 All Things Snow: What to Do if There's Snow in the Smoky Mountains on Your Trip
We've already had a good amount of snow in the Smoky Mountains this winter, and there are still plenty of chances for more to fall! There is something so beautiful and peaceful when snow falls in the mountains. For those lucky enough to experience snow during their trip to the Smoky Mountains, we've come up with a list of some of the best things to do! Check out what to do if there's snow in the Smoky Mountains on your trip:
1. Play in the Snow
Of course the best thing to do when it snows in the Smoky Mountains is to play in it! Build a snowman, have a snowball fight, or make snow angels. Depending on how much snow is on the ground, there are hours of fun to be had! You can even make snow cream! Make sure to take some pictures so you can remember all the fun you had for years to come. You can play in the snow outside your cabin rental, or head to one of the attractions that as a snow area, like Pigeon Forge Snow!
2. Explore Gatlinburg
There's something even more special about Gatlinburg when there's snow on the ground! Stroll through downtown and explore all the shops and attractions that look magical covered in a blanket of snow. If you visit during the ski season at Ober Gatlinburg, lace up your snow boots and prepare for a day of hitting the slopes! What's always a popular winter destination becomes even better when there's natural snow on the ground. You can go skiing, snowboarding or tubing for a thrilling afternoon. If you'd rather be indoors, try the indoor skating rink, or spend a few hours exploring all the stores in The Shops at Ober. Wherever you decide to visit in Gatlinburg, you'll fall in love with its beauty when it's transformed into a winter wonderland! To get a taste of what expect when there's snow in the Smoky Mountains, watch this video from the Gatlinburg SkyLift Park:
3. Indoor Attractions
If you're not a fan of the cold weather, you're in luck! The Smoky Mountains have numerous indoor attractions that are fun for the whole family. Here are some of the top indoor attractions:
Ripley's Aquarium
Spend the day at Ripley's Aquarium of the Smokies, which was voted the best aquarium in the United States! You'll be able to explore a number of unique experiences, like the Penguin Encounter or walking through an underwater tunnel with sharks and other sea animals swimming above you.
Hollywood Wax Museum
The Hollywood Wax Museum is the perfect way to spend a fun afternoon indoors. You'll feel like an A-list celebrity as you come across some of the biggest Hollywood stars! The life-sized wax figures are so detailed that you'll feel like they're real. Snap pictures with your favorite celebrities, like Brad Pitt, Anne Hathaway, and Elvis Presley!
Crave Golf Club
Who says you can't play mini-golf when it's snowing? Crave Golf Club has a 19-hole indoor mini-golf course that is perfect for those with a sweet tooth. Play through cliffs made of cocoa, ice cream sculpted canyons, and a sugar safari! You can also go mini bowling, and treat the winner to a signature milkshake at the Milkshake Bar!
4. Winter Hike
One of the best things to do in the winter is go for a hike. The Smoky Mountains are even more breathtaking when they're dusted with snow. Head to the Great Smoky Mountains National Park for an amazing winter hike! You'll have the chance to see gorgeous scenes of frozen waterfalls, and icicles hanging from the rocks. Make sure you're careful so you don't slip and fall, and take your camera with you to capture the spectacular views!
5. Extend Your Stay
Depending on the road conditions, it might be too dangerous to head home when you planned. Use it as an excuse to spend one more night in the beautiful Smoky Mountains! There are so many beautiful cabins, condos, bed & breakfasts, and more in the Smoky Mountains for you to stay. Extend your stay where you are one more night, or book a night at one of the other many lodging options in the Smoky Mountains! You'll love being able to extend your winter vacation.
Snow in the Smoky Mountains is an incredible sight to see. Keep up to date with the weather and road conditions in the Smokies, and find out if there's a chance of snow during your vacation!