Wedding Destination Gatlinburg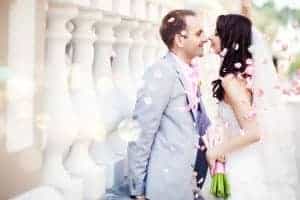 Wedding Destination Gatlinburg, Tennessee nestled in the Smoky Mountains, it is known as "the wedding capital of the South", and is also in the top 3 wedding destinations in the world. An astonishing 42,000 weddings are held per year in the picturesque and fairytale-like setting of Gatlinburg. With such an ideal setting drawing couples to want to say their vows in Gatlinburg you may be worried about the cost but you will be pleasantly surprised by the low fee for a marriage license in Sevier County, $39 for out of state couples.
While it may be easy to choose Gatlinburg as the destination for your wedding venue with the back drop of the mountains and quaint architecture you still have to decide what setting you prefer to say "I do" in. There are many traditional wedding chapels with the look of an old fashion small church. The ease of selecting a wedding chapel is that unlike a traditional church it is complete with the decorations and set up for a wedding theme that you can customize without the frustration of getting decorations on-site. However coming to the Smoky Mountain National Park area with the natural beauty of the mountains and streams many choose to have outdoor weddings. Outdoor weddings in Gatlinburg are a very common occurrence but still offer a wide range of options to suite your taste. You may choose like many to have a simple gathering by a stream of water with a very intimate exchange of vows beneath the shade of a tree. Or if bringing many of your close friends and family to celebrate your occasion with a transformeation of an unforgettable scene to be remembered is what you have in mind then you may choose the grounds of Park Vista just outside the National Park for your fairy tale day. With outdoor weddings having high popularity in Gatlinburg the city becomes the busiest with newlyweds in the summer when the weather is more ideal.
For an area that host 42,000 couples annually making life long commitments to one another you can be assured that everything you need for your special day and celebration is available and easy to find. You can come completely prepared or you can just take off and get everything you need after arriving in Gatlinburg; from the rings, bridal and groom attire, decorations, specialty cakes, special drinks to toast, and everything you may want for a honeymoon. Speaking of your honeymoon an even greater amount of couples decided to spend their first married days together in the Gatlinburg area and many cabins and lodging offer a selection of romantic options. When choosing your wedding destination you will want to make sure you include Gatlinburg, Tennessee on the list you consider.