6 of the Most Affordable Gatlinburg Restaurants to Visit on Your Vacation
If you don't want to spend an arm and a leg when you go out to eat, you should visit some of the most affordable Gatlinburg restaurants! These eateries have delicious food you won't forget at a price you will want to come back for. Check out 6 of the most affordable Gatlinburg restaurants you should visit on your vacation:
1. Parton's Deli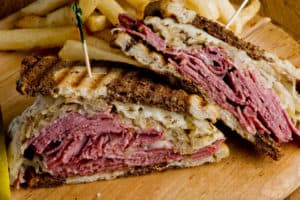 Do you enjoy a great sandwich or hot dog? Parton's Deli is the perfect place for this kind of food! Choose from turkey, ham, pastrami, corned beef, and other meats for your sandwiches. Cheeses you can get include cheddar, american, mozzarella, and more. Get your hot dog covered in chili, cheese, coleslaw, and whatever other topping you love. The sides at Parton's include homemade coleslaw, potato salad, and deviled eggs. This place has a small-town feel you'll enjoy and prices you'll love!
2. Little House of Pancakes
When you wake up ready for breakfast, head out to Little House of Pancakes. They have delicious food at some of the best prices as far as Gatlinburg restaurants go. Your favorite breakfast staples at Little House of Pancakes include eggs cooked the way you like, bacon, sausage, grits, biscuits, and, of course, pancakes. You can get classic buttermilk pancakes or get them with add ons, such as chocolate chips or bananas. You can also order lunch items from this restaurant!
3. Split Rail Eats
Split Rail Eats
is a small Gatlinburg restaurant with great prices! They're known for their tater bowls, a bowl of tater tots or french fries covered with other ingredients. There's a cheeseburger bowl, buffalo bowl, taco bowl, and greek bowl. You'll also find sandwiches, burgers, and salads. Be sure to save room for the cinnamon roll hand pie!
4. Luigi's Pizzeria
Are you in the mood for pizza? Head over to Luigi's Pizzeria. You can build your own pizza with all your favorite toppings, or choose from one of the many specialty pizzas. Some of them include the white pizza, a greek pizza, and a philly steak pizza. You'll also find pasta dishes, salads, strombolis, calzones, and sandwiches. There's something for everyone at Luigi's!
5. Loco Burro Fresh Mexican Cantina
In the mood for Mexican food? Head to Loco Burro Fresh Mexican Cantina. You'll find all your favorites, from enchiladas to fajitas to tacos. You can't go wrong with the chips and salsa, and you know you want to, so go ahead and add queso! Can't decide what you want? Get one of the combo meals, or try something new with the traditional dishes. Loco Burro has great prices, and you get a large amount of food for what you pay.
6. Delauder's BBQ
Need some authentic barbeque while you're in Gatlinburg?  Delauder's BBQ is a delicious and affordable option. This family-run dive-in is located in the outskirts of Gatlinburg, and they serve up a variety of delicious sandwiches, platters, and more. We recommend The Sneaky Pig Sandwich, with is pulled pork with award-winning sweet habanera sauce, sweet onion, and lettuce. Want to try it all? Get the Sampler Dinner that includes a 5 meat plate, plus your choice of two sides!
When you save money dining at these affordable Gatlinburg restaurants, it's okay to splurge one night at one of the other popular spots in town! Check out these other great Gatlinburg restaurants you should visit!