Dollywood Shows and Entertainment to Expect in Its 2021 Season
One of guests' favorite things about visiting Dollywood is the entertainment! The park is home to a variety of shows that are great for all ages. For its 2021 season, Dollywood is introducing 3 new shows before the Flower and Food Festival begins! We've gathered all the details on the new Dollywood shows and other entertainment you can expect during the 2021 Dollywood season.
New Dollywood Shows
For its 36th season, Dollywood is giving guests 3 new shows to enjoy before the annual Flower and Food Festival kicks off. These are just some of the new shows and entertainment that can be found at the park this season! Find more details on these Dollywood shows below:
Harmonies of the Heart
If you were fortunate enough to catch Dolly's family in the Christmas show, Heart of the Holidays, then you'll love the new Harmonies of the Heart show at Dollywood! The show stars two of Dolly Parton's nieces, Heidi Lou and Jada Star, along with Dolly's cousin Shelley and family friend Barry J. The group will sing original songs and tell stories about Dolly! If you love live music and endearing stories about Dolly Parton, then you'll love this Dollywood show this spring. Harmonies of the Heart takes place at the Dreamsong Theater in Dollywood.
A Brighter Day
A Brighter Day is a brand new production showcasing the talent of 4 vocalists and a 5-piece band. The show features a variety of music of all genres, including country, contemporary Christian and pop. All of the songs in this show are uplifting and have a positive message! This show will take place at the Back Porch Theater in Dollywood.
The Tones
Have you ever seen the group, Gem Tones at Dollywood? This popular a cappella group is becoming The Tones for Dollywood's 2021 season! The performers will lose their poodle skirts and doowop for a contemporary vibe and harmonies. Dollywood guests love when the park offers street performances in surprise areas of the theme park, so they're sure to enjoy The Tones on The Village Depot Stage in 2021!
Other Popular Dollywood Shows You Can Expect
These 3 new shows aren't the only shows Dollywood visitors can expect in its 36th season! Some of your favorites are returning in 2021!
Kingdom Heirs
Kingdom Heirs will be wowing Dollywood guests for the 36th season in a row! Kingdom Heirs is Dollywood's resident Southern gospel group and a multi-award-winning quartet. Although this group has been around for years, the performance is always fresh with new songs for visitors to enjoy! Plus, there's a new tenor in the group this season! Kingdom Heirs will perform at the Showstreet Palace Theater.
Smoky Mountain String Band
The Smoky Mountain String Band is a house band that Dollywood guests love. This bluegrass group will be performing rich Appalachian tunes at Valley Theater. You can hear them as you head through Craftsman's Valley!
The Wild Roots Band
As soon as you walk through Dollywood's gates, you'll have the opportunity to hear the Wild Roots Band! This 3-piece band has been known to draw a crowd with its acoustic routes music. You can find The Wild Roots Band at the Showstreet Gazebo.
Heartsong: The Movie
Heartsong: The Movie is back! Be sure to check out this classic 20-minute film when you visit the park. During this movie, Dolly takes you on a virtual journey through the Smoky Mountains. It's a multi-sensory theatrical show made just for Dollywood guests to enjoy in the Heartsong Theater.
More Entertainment at Dollywood
These Dollywood shows aren't the only entertainment returning in the 2021 Dollywood season. Some of your favorite Dollywood characters will be back! Here are some beloved Dollywood characters you can meet in the park:
Miss Lillian: Dollywood's "Chicken Lady" is back and roaming through Craftsman's Valley and Rivertown Junction, waving at the Dollywood Express and giving out her special "chicken blessings."
Francis: Francis is Dollywood's resident nerd who loves to chat with guests about the weather and answer anything and everything guests ask about the park!
Apple Jack: You can find Apple Jack making his way through Market Square, Rivertown Junction and The Village strumming his banjo!
Flit, Flutter, Benjamin Bear and Ned: These special characters can be found wandering about Wildwood Grove! Kids will love saying hello and grabbing a photo with them — a socially distanced one, of course!
More About the 2021 Dollywood Season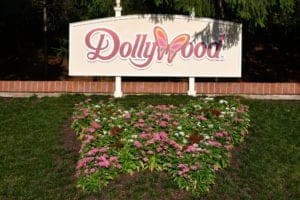 Of course, you can still enjoy all your favorite rides and games at the Dollywood theme park in 2021 as well! The shows we listed above are just a taste of what's to come in the new season. The list is only a look at what to expect before the Flower & Food Festival begins — there is plenty more fun to come! All COVID-19 protocols are still in place, including the face mask requirement and limited seating.
We'll update you with more information about the 2021 Dollywood season when we get it! In the meantime, learn more about Dollywood ticket prices and get ready to enjoy a fun trip to this world-class theme park in March!