Listen To This Article - Click Play
One question that everyone wants to know the answer to is, "When is Dollywood opening?" Although the attraction has not yet announced an official date, official updates have been and continue to be posted on their website and Facebook page. We've gathered all the information we can on the answer to your question of when the Dollywood opening will be, as well as other updates on the 2020 Dollywood season.
Is Dollywood Opening in 2020?
One question we've seen thrown around is, "Is Dollywood even going to open this year?" Although there is no official opening date, we do know that team members have been consulting with medical experts and monitoring the situation to determine a safe reopening plan. The attraction announced that it is working on plans to reopen and will announce an official date soon.
When Will Dollywood Not Open?
To help answer when Dollywood is opening, it's easiest to talk about when it definitely won't open. An Executive Order that is effective through May 29th ordered the "continued closure of certain businesses," including amusement parks. However, Gov. Bill Lee announced on May 15 that large attractions, such as amusement parks, can now begin reopening as early as May 22. That means the earliest Dollywood can open is May 22, 2020.
What We Know About Dollywood Opening in 2020
While no one knows an official Dollywood opening date, there has been some speculation of it being sometime in June. We will update you with more info as we get it, but for right now, take a look at a couple things we do know about when Dollywood is opening in 2020:
As of right now, the earliest possible date Dollywood will reopen is May 22, 2020.
Season passes were extended through June 1, 2021. This could hint at an opening date of June 1, 2020, so that season passes could be used for one full year. You can find more information about the season pass extension below!
2020 Dollywood Season Passes
Dollywood announced on Wednesday, April 29 that all 2020 season passes are now valid through June 1, 2021. The passes will be automatically updated. The extension also applies to the free Pre-K Imagination Season Pass. In addition, Dollywood also announced that it will be sharing how to redeem your Summer Bring-A-Friend FREE. Read the attraction's announcement below:
2020 Dollywood Season Pass Benefits
As a Dollywood Season Passholder, you'll get exclusive benefits during your visits to the park. Passholders can enjoy early ride time, when the park opens 1 hour early every Saturday just for those with passes, as well as a friends and family discount of $5 off admission. If you purchase the Gold Season Pass, you'll get free parking (saving you $15 per visit) and 20% off food, merchandise and select rentals at the park. You'll also receive discounts on premium park experiences like TimeSaver Passes, VIP tours, valet parking and more. But that's not all! If you show your season pass at some of the most popular attractions in the Smoky Mountains, you can save on your tickets! See a full list of attractions where you can save with your season pass below:
Dolly Parton's Stampede (Season Pass: $3 Off, Gold Season Pass: $5 Off)
Hatfield & McCoy Dinner Feud (Season Pass: $3 Off, Gold Season Pass: $5 Off)
Pirates Voyage Dinner & Show (Season Pass: $3 Off, Gold Season Pass: $5 Off)
Smoky Mountain Opry (Season Pass: $5 Off, Gold Season Pass: $7)
Comedy Barn (Season Pass: $5 Off, Gold Season Pass: $7)
Ripley's Attractions in Gatlinburg (20% off admission to the following: Aquarium of the Smokies, Believe It or Not, Moving Theater, Haunted Adventure, Davy
Crockett Mini-Golf, Old MacDonald's Farm Mini Golf, Marvelous Mirror Maze, Guinness World Records)
2020 Dollywood Season Pass Prices
The season pass gets you unlimited admissions to the park through June 1, 2021! Pricing for the 2020 Dollywood theme park season passes are listed below.
Regular Season Pass (Adults): $139
Gold Season Pass: $224
Regular Season Pass (Children): $129
Regular Season Pass (Senior): $129
Gold Season Pass (Senior): $214
More Info About the Dollywood Open Date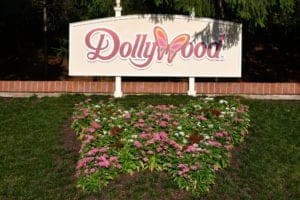 Keep checking back for an official 2020 Dollywood open date! We'll continue to provide you with the most up-to-date information to help answer your question, "When is Dollywood opening?"
While we don't know an opening date for Dollywood, we do have one for the Great Smoky Mountains National Park! The Great Smoky Mountains National Park is reopening on May 9. The opening will happen in phases, the first including many roads and trails in the park. Learn more about the Great Smoky Mountains National Park reopening here.